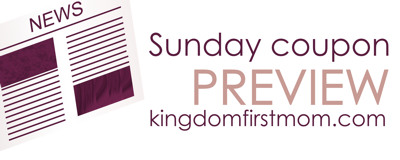 Happy Saturday! There will be 1 insert this weekend: 1 SmartSource.
Keep in mind that coupons always vary slightly by region. All new coupons have been added to the Coupon Database.
If you are in need of more coupons this week, check out my coupon resources page.
Here are the best high value coupons I see:
SS
$1/1 Arm & Hammer Tooth Tunes Toothbrush
$1/1 Citracal Product
$2/2 Glade Fall Collection Product
$1.50/2 Glade Jar or Scented Oil Candles Product
$1/1 Gold Bond Ultimate Foot Cream
$1/1 Gold Bond Ultimate Intensive Healing Hand Cream
$3/1 ICAPS Eye Vitamin and Mineral Product
$1/2 KC Masterpiece Barbecue Sauce or Marinade
$2/1 One A Day Adult Multivitamin Product
B1G1 Free Pledge Multi-Surface Product
$1.50/1 Systane Product
$1/1 Tom's of Maine Deodorant or Bar Soap
$1/1 Tom's of Maine Toothpaste, Mouthwash or Floss
$1/1 Wholly Guacamole
For the full list of coupons in tomorrow's paper, check out Sunday Coupon Preview.
In other coupon news:
For a preview of Walgreens deals next week, stop by Couponing 101. For the scoop on CVS, visit Deal Seeking Mom. To see what is going on with Rite Aid, see Coupons On Caffeine.
Join me tomorrow for our weekly $5.00 Drugstore Challenges!