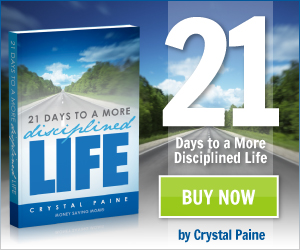 Are you easily overwhelmed by your big ideas or projects, and you just don't know where to start and how to make real progress?
Do you find yourself making "all-or-nothing" plans for transforming your life, and then three days later you crash and burn under the weight of your plan?
Crystal Paine's (aka Money Saving Mom) new eBook, 21 Days to a More Disciplined Life may be the ticket to cure your frustration.
About 21 Days to a More Disciplined Life:
21 Days to a More Disciplined Life is not going to fix all of your discipline problems in less than a month, and if I claimed I'd be able to do that, I'd be lying.

After you have finished reading this book and gone through your first 21 Days, you will have implemented one or two small changes and created a habit of discipline in one area of your life

You will also have one completed "Mega Project". Completing your first Mega Project is so important to your continued success in creating discipline habits. It will propel you forward and motivate you like nothing else.
Crystal breaks each day into bite-sized pieces. It only took a few minutes to read day one, and another five to clear and clean one shelf in my pantry (which really needs a good purging!). In total, I spent less than 15 minutes on the tasks for day one. This book is about tackling very small projects and one big project one day at a time… which is definitely doable for this new mom!
Today through Thursday, October 26, you can download 21 Days to a More Disciplined Life for only $0.99 as a PDF or for your Kindle. Beginning Friday, the book will go to $4.99. OR… you could enter to win one of FIVE copies of Crystal's eBook right here on Kingdom First Mom!
Enter to Win
This giveaway is now closed. The winners are: Mandy (goldfu…1@…), Becky (beckymilst…@gm…), Katie (katie.hick…20@…), Kim (kimshir…24@…), and Andi (andreajes…10@…)!
To enter this giveaway, please fill out this form (email subscribers will have to click through to the post to enter):
The giveaway will be open through 5 pm CST on Thursday, October 26. Good luck!
Disclosure: I was provided with a review copy of 21 Days to a More Disciplined Life. The links to the eBook are my affiliate links. If you would prefer to purchase the eBook outside of my affiliate link, please go here.