Can you believe it is November? 2012 has flown by, and now the holiday season is upon us.
I am not exactly the creative type, so I get my hands on as many ideas for decorating, food, and gifts as I can.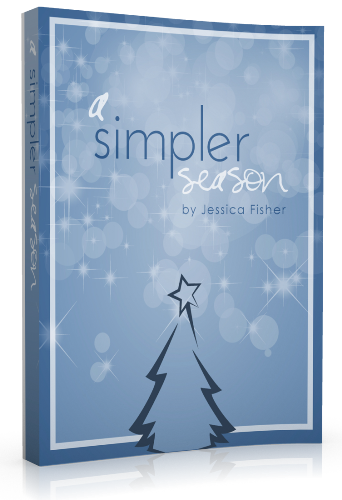 Jessica Fisher (from Life as MOM and Good (Cheap) Eats) has released yet another fantastic eBook. A Simpler Season is not just a Christmas planner, but includes creative ideas, time-saving tips, and budget-minded inspiration for making the most of Thanksgiving, Christmas, and New Year's.
A guide to planning the winter holidays, A Simpler Season also includes recipes, to-do lists, children's activity sheets, planning pages, gift ideas, and step-by-step tutorials for creating homemade gifts.
Here's what you'll get in A Simpler Season:
creative ideas for celebrating Thanksgiving, Christmas, and New Year's
over 150 pages of content: ideas, recipes, and inspiration for planning a special holiday season with your family
70+ printable pages: calendars, to do sheets, inventories, and planning pages
games and activities to do with the kids
24+ family activity cards to print and do over the month of December
printable recipe and gift cards to help you make edible gifts
a variety of family devotional ideas to explore with your family
a list of children's books to enjoy as well as extension activities to do with your children after the reading
family-friendly recipes for the each of the winter holidays
questions to get you thinking about how you really want to spend your time this year
easy downloadable format in pdf or on kindle
Jessica has graciously offered THREE of her eBooks to be given away here on Kingdom First Mom!
Enter to Win
——> This giveaway is now closed. Congratulations to the winners: Kelly (Kelbe…4@gmail.com), Olga (momof2…@live.com), and Sheila (sdbi…@gmail.com)!!!
To enter this giveaway, please fill out this form (email subscribers will have to click through to the post to enter):
This giveaway ends at 5 pm CST on Thursday, 11/8. The winner will be selected randomly and notified by email.