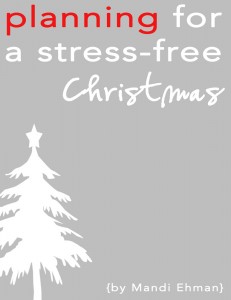 Christmas can be stressful, but it doesn't have to be!
If you are looking for an easier way to get through this Christmas, you need to check out the eBook, Planning for a Stress-Free Christmas, written by my friend Mandi Ehman. This short guide to holiday planning walks you through each aspect of your celebration to help you organize and simplify your holiday plans.
In addition, you'll also receive a free coupon code to download and print the Christmas planner from Life Your Way so that you can get started on your holiday plans today!
Download the Kindle version of Planning for a Stress-Free Christmas, and get your coupon code for the free Christmas planner! If you don't have a Kindle, you can download the free Kindle app for your smartphone, tablet, or computer.
*The PDF version of this eBook is available on Life Your Way for free, but there is no free coupon code.