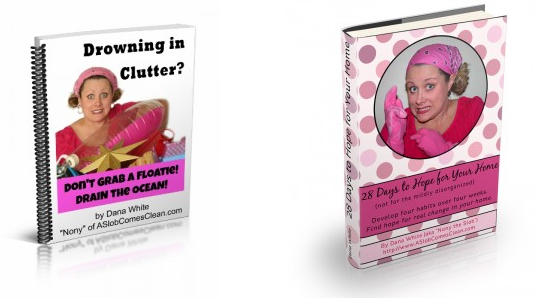 Today (1/22) only, both the Drowning in Clutter? and 28 Days to Hope for Your Home eBooks from A Slob Comes Clean are on sale.
You can snag either book for $2.20, or both books as a set for $3.90. Simply use coupon code BIRTHDAY at checkout to receive your discount.
About Drowning in Clutter?:
Are you overwhelmed with stuff? You're definitely not alone.

If you feel like you're drowning in your home, but decluttering seems an impossible task . . . Drowning in Clutter? (Don't Grab a Floatie . . . Drain the Ocean!) is for you.

Clutter is intensely personal. Decluttering can be gut-wrenching, heart-breaking, and physically exhausting.

But it's worth it.

I know.

I've decluttered truck-fulls of my own stuff over the past three years of my deslobification process. I've worked my way through junk piles and junk closets and junk rooms.

As I've decluttered, I've developed decluttering strategies that can help anyone work his/her way through any amount of clutter.

I've changed my perspective on "stuff" and have changed how our home functions.

Even though it sounds like an impossible task, I've "drained the ocean" down to a level I can handle!
—>Purchase Drowning in Clutter?
About 28 Days to Hope for Your Home:
Are you overwhelmed by the mess in your home?

Have you ever wondered if there's no hope for you?

I know that feeling. I've experienced it too. I'm so glad that now I can say . . .

There is hope!

For anyone!
—>Purchase 28 Days to Hope for Your Home
—>Purchase the Drowning in Clutter and 28 Days Set