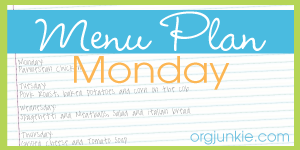 Each week, I will share my menu with you, linking to new recipes and old favorites. Hopefully, this will help me get out of the food rut I've been in, and help you guys find fresh ideas!
Monday 2/18
Supper – Cheesy Nachos and Salsa
Tuesday 2/19
Supper – Ham and Homemade Oven Fries
Wednesday 2/20
Supper – Smoothies or fruit and yogurt
Thursday 2/21
Supper – Roast Chicken, Salad, and Sweet Potatoes
Friday 2/22
Supper – Homemade Pizza (sauce recipe found in Not Your Mother's Make-Ahead and Freeze Cookbook; dough recipe found in Easy. Homemade.)
Saturday 2/23
Supper – Stuffed Peppers
Sunday 2/24
Supper – Roast Chicken sandwiches, fruit
Linking up to Org Junkie's Menu Plan Monday!