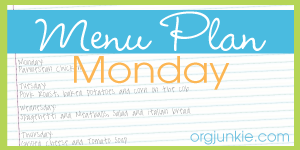 Each week, I will share my menu with you, linking to new recipes and old favorites. Hopefully, this will help me get out of the food rut I've been in, and help you guys find fresh ideas!
On Sunday, I began the Whole30 with a few friends, so my menu for the next 28 days will reflect that eating plan. My family is not participating, so some of the items on my menu will not be Whole30, but I will not be eating those foods.
Monday 3/4
Chicken with sautéed vegetables, salad, and avocado
Tuesday 3/5
Fajita Beef with sautéed vegetables, tortillas (for girls), salsa, avocado, salad (for me)
Wednesday 3/6
Fried Eggs, vegetables, homemade turkey sausage, avocado
Thursday 3/7
Spaghetti Squash with Almond Flour Meatballs and homemade pasta sauce, salad
Friday 3/8
Hamburger Patties, sweet potato fries, homemade macaroni and cheese (for girls), avocado, salad
Saturday 3/9
Baked Tilapia with oven-roasted veggies, salad
Sunday 3/10
Leftovers
Linking up to Org Junkie's Menu Plan Monday!