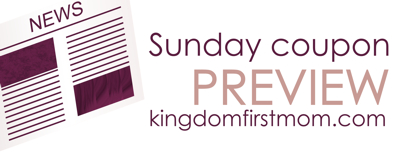 Get your scissors ready, because there will be THREE inserts in this Sunday's paper: 2 SmartSource and 1 Red Plum.
Keep in mind that coupons always vary slightly by region. All new coupons have been added to the Coupon Database.

If you are in need of more coupons this week, check out my coupon resources page.

For the full list of coupons in tomorrow's paper, check out Sunday Coupon Preview.
Here are my favorite coupons:
SmartSource #1
$1/1 Colgate Mouthwash
$2/1 Huggies Little Movers Slip-On Diapers
$1/1 Irish Spring Body Wash
$1/1 L'Oreal Advanced Haircare Shampoo or Conditioner
$1/3 Nabisco Cookie or Cracker Product
$1/1 Oxiclean Pre-Treater
$1/1 Planters Nutrition Sustaining Energy Mix Multi-Pack
$2/1 Pull-Ups Training Pants
$3/2 Refresh Product
$1.50/1 Snapple Box of Brew Over Ice K-Cups Packs
SmartSource #2
$1/1 Breyers Ice Cream Topping
$1/1 Gillette Body Wash or Anti-Perspirant/Deodorant
$1/2 Gum Product
$3/2 Old Spice Deodorant
$0.75/1 Reynolds Wrap Foil
$3/1 Secret Clinical
$1/1 Sunsweet Dried Fruit
$0.50/1 Tetley Tea Box
$1/2 Vlasic Regular or Farmer's Garden Pickle Variety
$0.50/1 Wonderful Almonds
Red Plum
$3/2 Banana Boat Sun Care Product
$1/1 Ben & Jerry's Frozen Yogurt or Ice Cream
$1.50/1 Febreze Air Effects
$1/1 Hawaiian Tropic Sun Care Product
$1/3 Kellogg's Pop-Tarts or Kellogg's Pop-Tarts Mini Crisps
$2/1 L'Oreal Youth Code Product
$1/1 Sunlight Dish Detergent
$3/1 ThermaCare Cold Wrap
$1/1 Wisk Laundry Detergent
$0.50/1 Wonderful Pistachios
For a preview of Walgreens deals next week, stop by Couponing 101. For the scoop on CVS, visit Deal Seeking Mom. To see what is going on with Rite Aid, see Coupons On Caffeine.
And don't forget about our weekly $5.00 Drugstore Challenges on Saturday night!