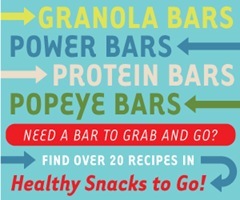 I am so excited to share this deal with you! For the rest of June, you can snag the Healthy Snacks to Go eCookbook for 50% off! This is one of my favorite cookbooks, and I use it all the time.
Let me tell you. You want this eBook, if for nothing else, but the No-Bake Granola Bars recipe. These are seriously the best granola bars on the face of the planet. Did I mention they are easy? And tasty? They certainly don't last long in our house.
Stops typing to go make granola bars.
Ahem.
I am really not kidding when I say this is one of my very favorite cookbooks. Katie has over 20 snack recipes that your family is sure to love. These snacks are perfect for all families whether you are staying home or on-the-go. (You can read how author Katie uses Healthy Snacks to Go and eats real food while on road trips!) And to make it even better, Katie is offering a 50% off code for the rest of the month! You can't beat that!
Purchase your copy >>>Healthy Snacks to Go. Use coupon code
EWSL-Car-Trip

at checkout to get it 50% off!