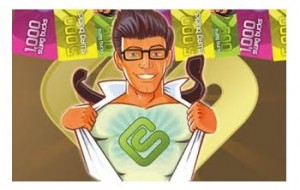 This is just a reminder that today is Mega Swag Bucks Day! Every Friday is Mega Swag Bucks Day, which means you have a better chance of winning the big Swag Bucks! You can snag from 30 to 1,000 Swag Bucks with just one search!
What are Swagbucks? Swagbucks is an online search and win site, powered by Ask.com and Google. You will periodically earn Swag Bucks or, "digital dollars" as you search the web, which you can then redeem for prizes. My personal favorite is trading in my "bucks" for Amazon gift cards!
Plus…
Swagbucks just announced that their Email Surveys are paying double the amount for the whole month!
Setting yourself up to earn is a quick way to earn some Swag Bucks, too: go to the "My Settings" area of your account and click "Survey Profiles" – you'll see a collection of short questionnaires sorted by topic, and each one you complete gets you 2 Swag Bucks. The amount of profiles available varies by country, but the payout remains the same.
Once your profiles are set up, you'll begin receiving targeted survey opportunities right to your email inbox so you can earn even more Swag Bucks – double the payout all month long!
If you haven't joined Swagbucks yet, it's a great way to get rewarded for your time online. Sign up now and start earning free gift cards!