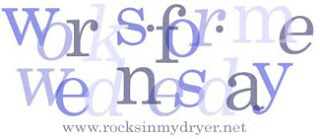 I gave up on my Diaper Pail long ago for the following reasons:
1. the awful smell
2. the awful smell
3. the awful smell
4. the expensive Diaper Genie inserts or extra cost of trash bags
Back in my rookie mom days, everyone had a Diaper Genie. The first few months were great, no smell, little maintenance! But then comes solid food. The smell just does not go away. I tried Lysol, bleach, you name it, but the stench always lingered. I realized I was spending an extra 5 bucks a week on top of diapers and wipes for nothing!
Along came baby #2 five years later. I discovered the Diaper Champ. "How brilliant!", I thought. It takes regular kitchen trash bags, which I always have on hand anyway. No twisting required, just drop and pull. Again, the first few months were great. But then that old familiar smell returned. It just would not go away. So I ditched the Champ, it was a loser.
My WFMW solution for no diaper pail? Plastic newspaper sleeves. They are the perfect size for a dirty diaper, and they are FREE! I save the sleeves, insert the diaper, twist and fold, and chuck it in the regular kitchen trash. NO SMELL!!! The kitchen trash gets emptied every day or 2 in my home, so nothing lingers. Added benefits: one less trash can to empty, money saved on bags, and a great way to recycle!
I also stick a few sleeves in my diaper bag for when we are on the go. No newspaper? Try plastic grocery sacks. It works for me!