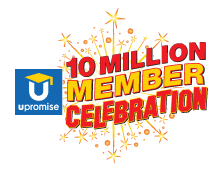 With over 10 million members, chances are you have heard of Upromise
. This month, they have a special promotion for existing and new members.
If you join and activate your membership during January, you'll get a $10 Restaurant.com gift certificate, good at over 9,000 restaurants.
Existing members can also earn a free meal. Simply tell your friends about Upromise via their Tell-a-friend page. For each person that activates a Upromise account, both you and that friend will receive a $10 Restaurant.com certificate. Tell as many friends as you want!
This offer is good through January 31st, so don't delay! Be sure the new account gets activated to complete the process. The simplest way to activate a new account is by registering one or more credit/debit or grocery cards.
What's that? You don't know about Upromise? Well…
It's a free service that launched in 2001 (which is when I joined). Basically, Upromise is a simple way to save for college by harnessing the purchasing power of family and friends. Members direct their spending to Upromise partners- including more than 600 online stores, 8,000+ restaurants, and thousands of grocery and drugstore items.
Yes, even your CVS spending can earn savings in your Upromise account! Upromise also offers eCoupons for additional savings.
Sign up for Upromise here
to create your free account, and enjoy that free meal!
When saving for college, every little bit helps. I continue to watch my children's accounts grow slowly over the years with no extra spending on my part. I wholeheartedly recommend it!