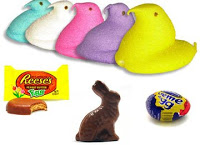 Andrea over at Mommy Snacks came up with the fantastic idea to round up the very best Easter candy deals around town each week.
So I'm pleased to let you know that I am covering the candy deals for CVS, of course!
Be sure to scan your Extra Care card at the magic coupon machine! There have been reports of a $5/$15 coupon for the purchase of Easter Candy.
This week is looking much better for candy deals at CVS!
Hershey's: Reese's, Royal Dark, milk chocolate eggs or Cadbury mini eggs, 8-10 oz, 2/$4.00
Peeps or Easter Pez, 3-12ct, $0.96 (limit 8)
Life Savers or Starburst Jelly Beans, 14 oz, 2/$4.00
Galerie or Jelly Belly jelly beans, 5.4-7 oz, 2/$5.00
Easter Mars: Snickers, Milky Way, Twix or Spring Mix minis, 10.5-11.5 oz, 2/$5.00
Dove Chocolate eggs, minis, 8.5-9.5 oz, or solid bunny, 6 oz, 2/$6.00
Russell Stover, Palmer or Hershey's Chocolate rabbits, 4-7oz, 2/$6.00
Russell Stover Chocolate bunny, 2.5-3 oz, 2/$3.00
Hershey's Cadbury Creme Egg, 4 pk., 2/$4.00
Easter Singles: Russell Stover, Mars, Hershey's egg or bunny, Cadbury creme egg, 2/$1.50
Palmer Bunny, 1.5-7 oz, psa $0.99
Filled Easter Egg, 1.05-2 oz, psa $0.99
Be sure to check out this week's CVS $5 Challenge and the CVS April monthly book as well. Check back next week for more candy deals!