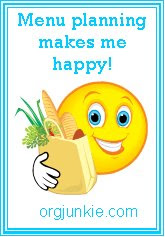 Well, Monday is here again, and all of us are linking up to OrgJunkie's Menu Plan Monday!
It is a good week to be in the Norton home… well, at least in my opinion!  We are cookin' it up this week.
Monday
– Grilled Filets (thanks to my in-laws!), potatoes, grilled veggies, biscuits.
Wednesday
– Tuna patties, mashed potatoes, corn.
Saturday
–
Beans and Mexican cornbread.