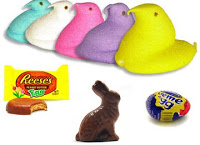 This is the final week of Mommy Snacks' Easter Candy Deal round up. I am covering CVS, of course!
This is definitely a generous week for candy deals, but don't delay, because I am sure the stock will be hopping away soon!
Be sure to scan your Extra Care card at the magic coupon machine! You just never know if a good coupon match will pop up.
Hershey's Easter: Miniatures, Kisses, Reese's, Kit Kat, York, Chocolate Eggs, or Cadbury mini eggs, 8-10 oz, 2/$4.00
Confectionery Lane Jelly Beans, 9 oz, $0.88 (limit 7)
Hershey's Pot of Gold: premium, pecan caramel or nuts, 8.7-10 oz, BOGO
Russell Stover or Whitman's Sampler Chocolates, 1.75-2 oz, $0.99
Easter Singles: LifeSavers, Russell Stover, Mars, Cadbury, Hershey's egg, nest, bunny or jelly beans, 0.9-2.25 oz, 2/$1.00
Use $1.50/3 from 3/15 SS insert
Mars Easter: Snickers, Milky Way, Twix, Spring Mix or M&M's, 10.5-14 oz, 2/$4.00
Use $1.00/2 from 3/1 RP insert
Whitman's, Russell Stover, or Gimbal's novelty candies, 25% off regular retail
Roca Thins, Lindt or Ghiradelli Chocolate bar, 2.8-3.5 oz, 2/$4.00
Gold Emblem (CVS brand) Jelly Beans or Jordan Almonds, 2/$5.00
Russell Stover Chocolates or sugar free, BOGO @ $8.99
Ferrero Rocher, Lindt Truffles or Ghirardelli Squares, 4.2-5.32 oz, 2/$6.00
**************************
Be sure to check out this week's CVS $5 Challenge and the CVS April monthly book as well.
Need some frugal Easter inspiration? Check out my carnival for lots of money-saving Easter tips.