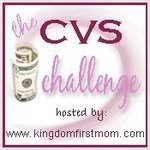 Welcome, my fellow CVS fanatics and newbies!
It's Sunday, time for our weekly CVS $5 Challenge. The place to go for simple CVS scenarios with step-by-step instructions. This week is the week to score some FREE school supplies! Go early, as they are sure to go fast.
Update: I will soon be featuring The Walgreens $5 Challenge on my blog each Sunday as well!  Until I get it up and running, feel free to link up your Walgreens scenarios here.  Same rules apply.  Have fun!
If you are a first time visitor, here's the lowdown:
Join me on Sundays as I host The $5.00 CVS Challenge!
Seasoned CVSers: share your best scenario(s) for the upcoming week at CVS.
Your budget: $5.00 out-of-pocket cash.
Your mission: to grow that $5.00 into even more ECBs to use in upcoming weeks.
*********************************
*RULES* Bloggers: Please make sure at least one scenario is $5 OOP or less

1. Come up with your best scenario/scenarios for the upcoming week at CVS using the current weekly ad, monthly deals, and coupons available. Your budget for Out of Pocket (OOP) expenses on the first transaction is only $5.00 (either cash OOP or ECBs on hand).
2. Using up to (3) scenarios (we don't want to overwhelm the newbies with too many transactions), offer up your best scenarios to "grow" that $5.00 into more ECBs to use in following weeks.
3. If you want to divide your $5.00 allowance over the 3 scenarios to make them work, that's fine!
4. Be sure to list coupons by inserts and/or with links to printables to make it easier for everyone to follow along.
*********************************
Here is MY $5 Scenario for the week of July 12th:
*coupons in red
Back to School 3 Day Sale (Sun-Tues)
Transaction #1
Buy 1 Caliber or CVS School Glue @ $0.99
Buy 1 Caliber or CVS  1-subject notebook @ $0.99

Total = $1.98
ECB's earned= $0.99, $0.99

Transaction #2
Buy 1 Caliber or It's Academic 5″ scissors @ $2.99
Pay with $1.98 ECBs from above
Total After ECB's= $1.01
ECBs Earned= $2.99
Transaction #3
Buy 1 Caliber or CVS 3-5 subject notebook @ $3.99
Buy 1 Caliber or CVS 12″ ruler @ $0.99
Pay with $2.99 ECB's from above
Total After ECBs= $1.99
ECB's earned=$3.00, $0.99
Grand Total OOP= $4.98
Total Value= $9.95 with $3.99 ECBs remaining!
Keep rolling those ECBs for even more savings!
*********************************
There you have it! A way to play the CVS ECB game by helping newbies learn the ropes. And who knows – you just might be inspired yourself by some of the deals you find, too!
Simply post your scenarios on your blog, then drop by Keeping the Kingdom First and add your permalink to the Mr. Linky box below.
Please link directly to your scenarios. Links directly to your homepage will be deleted. Linking back to this meme to share it with others is greatly appreciated!
Don't have a blog? You can leave a comment with your scenario, too. I invite everyone to participate.