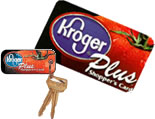 The following is a guest post from Stephanie at Couponing 101. Stephanie is a stay-at-home mom to two precious kids in DFW, Texas and she's been couponing for over three years.
How many times have you cut out coupons and then forgotten to take them to the store? I have done it a few times myself! Those pesky pieces of paper are so easy to forget, lose, or be torn apart by small children. Thankfully, coupons have partnered with technology to join us here in the 21st century!
Electronic coupons, "e-Coupons", are coupons that link to your grocery store savings card and are redeemed automatically at checkout. E-Coupons can only be used once, don't double, and can't be combined with other coupons or e-Coupons. They are manufacturer's coupons, so just like paper coupons, you can only use one coupon per item.
To get e-Coupons, you create an account using your grocery store loyalty card on an e-Coupon website. You then load the coupons on to your card with a simple click! The e-Coupons are regularly updated, so check your account before you go to the store to see if there are any new coupons available. Just remember that it can take up to an hour before the coupon is available on your card. When you get to the store, purchase the products, scan your card at checkout, and the coupons will automatically be deducted from your purchase!
There are four e-Coupon savings websites, and each one is a little bit different.
Shortcuts and P&G eSaver – These are  the simplest of the e-Coupon sites. Their coupons can be used at Kroger and Safeway affiliate stores. They offer coupons for popular brands like Huggies, Pampers, General Mills, and Betty Crocker. Shortcuts even offers coupons for store-brand products like oatmeal, milk, and yogurt.
Cellfire – This e-Coupon site offers coupons via your grocery store card or your cell phone.  You need a valid cell phone number to register, but you do not have to use any of their mobile features.  You use the grocery e-Coupons just like the other sites.  They also offer coupons for non-grocery stores like Hollywood Video, Payless, and Taco Bueno.  To use those, you would use their mobile app to show a coupon code to the cashier to get your discount.
Upromise – Upromise puts a new twist on "saving money with coupons." Instead of having the coupon value deducted from your grocery bill, it is instead added to a college savings fund! The great thing about Upromise coupons is that you can stack them with paper coupons! They can be used at almost any grocery store, and can even be used at CVS!
Now, I still love paper coupons, they have saved me thousands of dollars in the past few years, but I think e-Coupons are going to become a very popular way to save. For those who are forgetful, or just don't have time to clip coupons, e-Coupons are a great alternative!

—
Stephanie @ Couponing 101
http://www.couponing101.com