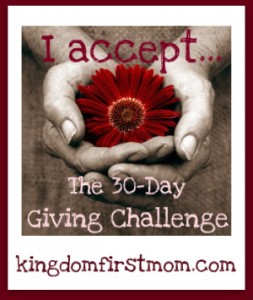 As I sit down to type this post, a song comes to mind…
Steven Curtis Chapman, Dive:
And in the rush I hear a voice
That's telling me it's time to take the leap of faith
So here I go

I'm diving in I'm going deep in over my head I want to be
Caught in the rush lost in the flow in over my head I want to go
The river's deep the river's wide the river's water is alive
So sink or swim I'm diving in
Are you with me?
November 1st is here. Day 1 of The 30-Day Giving Challenge.
I invite you to take a leap of faith and give in some fashion every day this month. Think beyond monetary gifts. Couponers, open up your stockpiles. Bakers, share some pumpkin bread with a neighbor. Get creative!
Most importantly, ask God to lead you each day.
Just remember to write it down. Not in a boastful, look-how-generous-I-am kind of way. But to keep yourself accountable and be transformed.
Write down the blessings that come your way each day, too. Get your whole family on board!
Bloggers are in a unique position to inspire and encourage literally thousands of others to accept this giving challenge. If you wish, feel free to RSVP below in the Mr. Linky. Leave a link to your blog or blog post about the challenge.
All are welcome to RSVP on Facebook, and invite others.
I will also be highlighting charities throughout the month that deserve our support. Although I believe giving should start in your own communities, there may be a day when you need a nudge or a suggestion.
If you wish to get further involved, please feel free to email 30daygivingchallenge (at) gmail (dot) com for more details. I am happy to consider your cause as a featured charity.
Keep this verse on your heart all month:
Let us not become weary in doing good, for at the proper time we will reap a harvest if we do not give up. Galations 6:9
It is my prayer that we would all gain a new freedom from the grip money has on our lives. At the end of this 30 days, I would love to hear how your heart was transformed!
Are you ready? Set… GO!! Get giving!