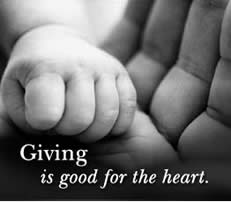 The following is a guest post from Stephanie of Couponing 101.
Inspired by Alyssa's Five Free Ways to Give, here are five more FREE ways you can give!
1. Box Tops – Box Tops are found on hundreds of products like Cheerios, Chex Mix, Cottonelle, and Kleenex.  Clip the Box Top symbol from the package and give it to your child's school, or a teacher you know.  Each Box Top is worth 10¢ for your school.  Clipping the Box Top takes just a second and doesn't cost you anything.  Go check your pantries and cabinets for that hidden free money!
2. Free Samples – I love free samples, and I'm betting you do too.  Give those tiny boxes of cereal, travel-size deodorants, and packets of laundry detergent to someone who truly needs them.  You still get the excitement of receiving the free sample in the mail, it doesn't cost you anything, and the sample will be put to good use.
3. Cut your Hair – Locks of Love provides hairpieces to children suffering from long-term medical hair loss from any diagnosis. If you have an extra 10 inches of hair you're looking to be rid of, rather than see it swept away at the salon, you could help return a sense of self-confidence and normalcy to children suffering from hair loss.
4. Time – God has blessed us with 24 hours each day. Pay it forward and spare a few of those minutes, or hours, of your day helping someone else.  Play a card game with an elderly man at a nursing home, rake the leaves in your neighbors yard, or babysit for your friend. You don't need money to do those things, and the recipient would likely value your kindness over a few dollars.
5. Company Websites – Several companies will donate to various charities if you click, tweet, or do any number of free online actions. Here are some examples:
Land O'Lakes – Click where it says "You click, we donate" and they will donate to fight local hunger.
Leapfish & Make-A-Wish – Tweet the provided message and Leapfish will make a donation to the Make-A-Wish Foundation.
Kraft Foods – Send a Free Holiday e-card and Kraft will donate 10 meals to Feeding America.
GoodSearch – Search the internet with GoodSearch and fifty percent of the revenue generated from advertisers on GoodSearch is shared with the charity, school or nonprofit organization of your choosing.
These are just a few examples of the free ways you can give. Just remember that you don't have to have earthly riches to give generously.

For more frugal ideas, stop by Life as MOM.

Stephanie blogs at Couponing 101 about the hottest coupons, deals, and freebies.  Stop by Couponing 101 to get your Free Coupon Education.