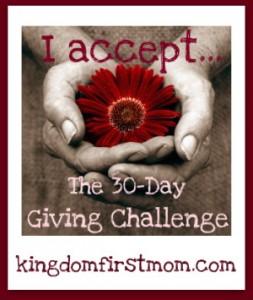 November 30th. Day 30 of The Challenge has come and gone. This month has truly flown by! I have enjoyed each and every day. Encouraging others to give has never been so fun!
I was amazed and touched by the response from readers and non-readers alike. The Facebook Event Page swelled to over 600 participants. I heard heart-warming accounts and creative ideas for giving on Twitter and beyond. Just imagine all the giving that went on this month!
Personally, this challenge was eye-opening for me. There were days when I said "yes" to things which I would normally say "no". My children were actually a pleasant surprise. I truly believe children are naturally more giving than adults. Sure, they have their selfish moments. But they have that innocent trust that they will still have "enough" even if they let go of money or possessions. I need more of that. Knowing that God will provide, and that we cannot possibly out-give Him.
Part of The Challenge was to record the blessings that come back to you. I must admit I did not track this accurately since that was not my true purpose behind the challenge. My mission was to encourage others to spread the spirit of generosity and highlight ways in which to do so.
But actually, the biggest blessings for me came from my readers. Emails, tweets, and comments. I want to share a few of those with you all, I hope they don't mind…
I just wanted to say thank you so much for the Giving program that you have inspired me to participate in. I did post it and challenge my readers, but for the most part I have kept my personal challenge to myself (my husband doesn't even know!!) And I cannot tell you how many blessings have fallen upon me since I started.  thank you thank you thank you!!
~Keri Lyn
I don't remember how I found your site, but I have been reading it for the last two months to get ideas on how to scale back an already scaled back home. While my husband and I have "jobs" they are not consistent and are not paying the bills.
Anyway, I quietly took your challenge, trying to give everyday. It hasn't been every day, and not in any big ways: remembering to buy items for the food drive at our church and school, raking someone's leaves, etc.
I've also been looking for a job for a while, started substitute teaching and figured because I hadn't found anything, it was where I needed to be and will just trust that God will provide.
Wednesday, for various reasons, I felt like I was at the bottom. I really didn't want to go to church that night to help out with our Wednesday night program, but decided to go ahead because my girls love to go.
To make a long story short, our pastor was looking for me. When I found him, he flat out offered me a job! I didn't know the church secretary position was even open but he had been asking around and though I would be perfect for it.
I'm still walking around in amazement, although it should be permanent, of God's love and provision for us.
~Karen H.
Hi Alyssa
I have been trying your 30 Days this month and had to share an experience with you.
On Sunday morning in Houston, while looking for a Starbucks, I passed a Whataburger. We were kind of in limbo waiting to meet my parents for brunch.  My kids were grouchy so I thought I would get them a snack to tide them over. I ordered each of the kids a biscuit sandwich and then threw in a taquito 'just in case'.  They ate and I found out where I was meeting my parents.  But then I finally spotted the Starbucks and really wanted yummy coffee.  When I got to the window of the drive through, I heard the barista say she ran out of the house without breakfast and was starving.  I realized I had a hot, taquito, still wrapped up, that I didn't really want. I offered it to her. She cracked up, took the taquito and thanked me graciously.
Today , three days later and back at home in Dallas, I drive through a Starbucks. I had a friend with me who I had already been telling about your 30 Days project.  (This morning I delivered an expensive sports bra that I don't wear to a Mamasource mom looking for bra advice. My passenger/friend thinks I'm nuts.)  When the barista comes back with our coffees, she hands me a third. She said it was a pumpkin spice latte that turned out to be an extra. Of course I immediately think STARBUCKS KARMA!!!  I then had the pleasure of presenting a hot latte to my son's preschool teacher.
Today it was easy to give with a happy heart.
Hillary
Hi Alyssa,
I have been following your 30 Day Giving Challenge and I wanted to let you know that I have really enjoyed your posts.  I wanted to share with you something that I have started on my blog that I think may coincide with your 30 Day Giving Challenge.
My husband Bill and I were trying to figure out how we can give back on our very, very limited budget that consists of one income because I stay at home with our daughter.  Bill thought it would be fun for me to figure out how many groceries I could buy for $5 a month and donate the groceries to a local food bank.  I am excited about this challenge and have challenged those that read my blog to participate if they would like to.
I am not sure if this is something you may be interested in, but I wanted to send it your way just in case you might be! Thank you for doing your 30 day Giving Challenge. It has been truly inspiring!
~Jen
Thank YOU, to all those who accepted this Challenge. It exceeded my wildest expectations!
Several readers have asked if I have considered extending it through the month of December. Officially speaking, no. With Christmas around the corner I plan to spend less time blogging and more time with my family. But I do still encourage those of you wanting to extend the 30-Days to do so privately. Some readers jumped in late and will still be giving during December. During a month when many of us will be shopping and wrapping gifts, it is so important to remember those in need.
I want less stuff this Christmas, and more time. Time for worship, time for family, and time for GIVING.
"Give, and it will be given to you. A good measure, pressed down, shaken together and running over, will be poured into your lap. For with the measure you use, it will be measured to you." Luke 6:38
As promised, I am opening up a Linky for those who blogged about The Challenge. I would love to read your recaps or posts about how The Challenge has worked in your life during these last 30 days.  Feel free to leave your links below.