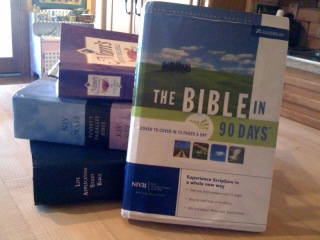 In just a few short days, we will begin an adventure together. Of all the goals I have for the new year, reading the Bible in 90 days is by far the biggest. And most likely the most life-changing.
I must admit I am apprehensive about this commitment. With the full support of my husband, daily encouragement from Amy, and my wonderful readers who keep me accountable, I know I have every chance of succeeding. But there is still this nagging fear of failure in the back of my mind.
Amy wisely asked her readers: what's your time trade off?
As you get ready to begin reading on January 1, what is it that your hour-ish daily reading time will replace? Will it be sleep? sit-coms? leisure reading? web-surfing?
I know the answer for me without hesitation: computer time. To accomplish this goal, I know my laptop must. stay. shut.
Amy also gave a little background on how this program came to be. This inspiring testimony really hit home for me. The creator, Ted Cooper, is a former agnostic who decided to read through the Bible in 90 days to answer some questions. Half-way through the Old Testament, he became a Christian.
I am actually a former atheist myself. And that story is for another post, another day (maybe).

 However, I have never read through the entire Bible.
Because I had little exposure to the Word until adulthood, there are chunks of the Bible I know I have never laid eyes on. Although I am already deeply committed to keeping the Kingdom first in my life, I can only imagine this will deepen my passion and knowledge.
I do want to stress that anyone can participate in this challenge, with any Bible.  You can print out this bookmark reading schedule to keep you on track.
Amy does mention that a major component for successfully completing the Bible in 90 Days Challenge is using the official program Bible. You can still obtain one here or also on Amazon. There are also a limited number of scholarship Bibles available for those who truly wish to participate but are not be able to purchase one.
There is one other option you might consider- iTunes. The Bible in 90 Days is actually available as an audio book download for $2.95 per week. I will probably supplement my reading occasionally with this option during my busier weeks.
If you are a blogger participating in this challenge, be sure to officially sign up here to become part of the online community at Moms Toolbox. You can also join in the weekly Twitter chats for support and discussion on Monday nights, 8-9pm CST (note the change of time) by following the #B90Days hashtag.
I am so excited to embark on this journey! I can't think of a better way to begin 2010, can you?