I promised more recipes in 2010, but I never promised they would be gourmet recipes, m'kay?

One of the best ways to save money on groceries is to use what you already have on hand. Cooking from your pantry is quick and easy in a pinch.
I have been so inspired this month by the Eat From the Pantry Challenge. Although I am not officially participating, I do want to share my favorite go-to pantry meal.
Dave Ramsey often talks about eating beans and rice to save money, and that is exactly what this recipe calls for. Beans and rice do not have to be boring! This hearty one-dish meal has plenty of zip, and can also be gluten and/or dairy free.
Black and Red Fiesta Beans with Rice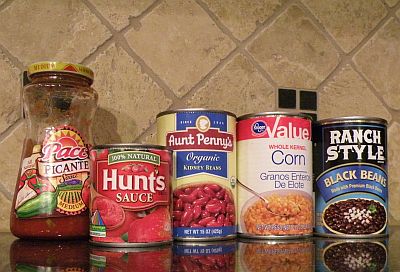 Ingredients
2 cups white or brown rice
1 (8 ounce) can tomato sauce
1/2 cup salsa
1 tablespoon onion flakes
1 teaspoon ground cumin
1 teaspoon dried oregano
1 teaspoon dried thyme
1/2 teaspoon garlic powder
1/4 teaspoon cayenne pepper or red pepper flakes
1 can black beans, rinsed and drained
1 can kidney beans, rinsed and drained
1 can corn, drained
salt & freshly ground black pepper
1/2 cup grated cheese (optional)
sour cream (optional)
Directions
1. Cook rice according to package directions.
2. Meanwhile, combine remaining ingredients in a large saucepan and set pan over medium-high heat.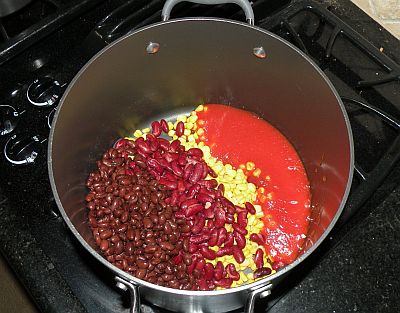 3. Bring to a simmer, stirring frequently. Add 1/2 cup water if you prefer more tender beans.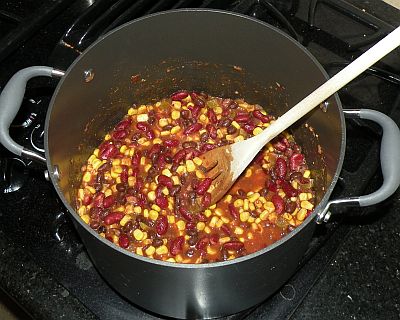 4. Fold in rice and season to taste with salt and black pepper.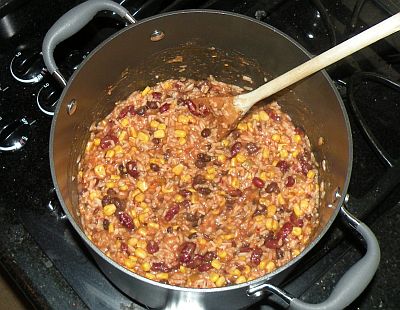 5. Lastly, add cheese (optional) and mix well.
6. Serve with corn chips and enjoy!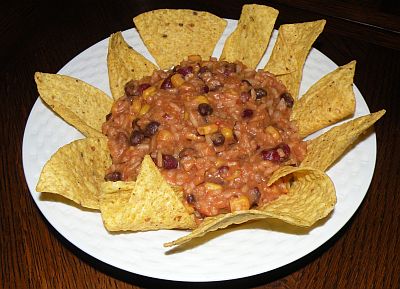 *Optional: Garnish with a sprinkle of cheese or a dollop of sour cream.
The best part is how incredibly versatile this recipe can be. Toss in some leftover ground beef or turkey, or perhaps some grilled chicken breast. Even without meat, I assure you one bowl is quite satisfying.
This quick and frugal meal costs under $5 for a family of four!
Linked to: