The following is a guest post from Amy of Raising Arrows.
Building a Family Library on a Budget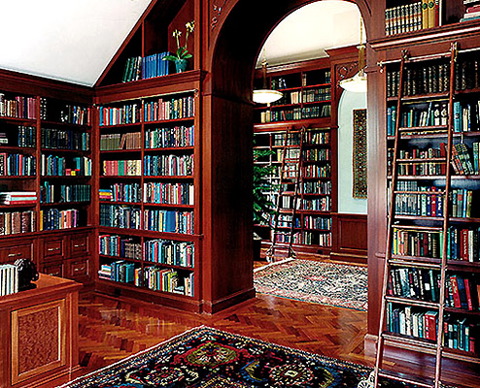 It started with a box of required reading materials for a myriad of college English classes.  It has become a wall of bookshelves filled to overflowing in the hopes that someday there will be an entire room just for books, complete with an overstuffed leather chair, a Tiffany lamp, and one of those old-fashioned library ladders.  I dream in black and white, of the hardcover and paperback kind.
Buying books can get expensive.  It is not uncommon for brand new hardcover titles to cost upwards of $15.00 or more.  It's tough to justify a cost like that when you have a family to feed.
But, don't let the cost of books scare you away from building a family library of your own.  Most of the books in my library were not purchased at cover prices, yet I have an extensive collection of books that feeds the voracious appetites of my family.  Here's how you can build your family library without spending a fortune:
Make a list. Keep a running list of the books you want in your library.  Go over it often.  Carry it in your purse.  The more familiar you are with the books on your Want List, the better able you are to make a purchase when you run across that title.
Shop online. Check out Ebay auctions and shops, search Amazon.com, peruse Half.com (also an ebay company), or type in keywords or ISBN numbers at BooksPrice.com for the cheapest prices on the net.  Many of the forums frequented by moms have a Buy/Sell section where you can find good deals on used books.  If you're a homeschooler check out the great deals from other homeschoolers on VegSource.com or HSLDA's Curriculum Market
Swap online. There are tons of places online where you can swap things.  Besides the sites specifically designed for swapping (like OurSwaps and SwapMamas), you can look to places like Freecycle and NeighBorrow.  One of my favorite sites for free books online is Paper Back Swap where all you need to get a free book are points accumulated from sending off your own unwanted books.
Frequent libraries and bookstores. With Wish List in hand, head out regularly to thrift stores to scan their bookshelves.  Go to used book stores where oftentimes you can trade in your used books for credit toward new-to-you titles.  Look for Library sales where they sell off their discarded books for cheap.  Some libraries even have sales year round run by their Friends of the Library program.  A church in my home town holds a used book sale every year where I stock up and save big.
Start a Book Fund. It can be as simple as a glass jar on the kitchen counter. If you homeschool, set aside some of your curriculum money to purchase books for your family library.  There are often vendors at the conventions who sell used books at a fraction of the cost of new.  Set a goal and work toward that goal with your book fund.  Perhaps you have a particular book in mind that you just aren't finding for a reduced price.  Having a book fund from loose change will quickly add up to the price of that book and you'll never even feel the cost.
Host a Book Swap & Shop. Open your home to other moms who are looking to unload unwanted books from their shelves and find some new titles to take home.  Give everyone a section in your living room or dining room to "set up shop" and then let everyone work their way around the room bartering or buying as they please.
Offer a Book Wish List to relatives who need gift-giving ideas. Amazon offers the option of a wish list that you can make available to your friends and family who are looking for gifts to give you and your children.  This is a great way to receive some of those books you are longing for and a great way for your relatives to give you something you really want!
I tell my children all the time that readers are leaders.  Having an extensive library of great books proves to them I mean it.  You really can stick to your budget and start your own collection of books.  So, it's time to start dreaming in black and white with a Tiffany lamp or two!
Amy is the homeschooling mother of 6 precious arrows, with one on the way.  To read more about what life is like managing a larger-than-average household, and to find support for the grieving mother (Amy's 5th child, Emily, died two years ago at the age of 7 months), visit Amy at her blog, Raising Arrows.