The following is a guest post from Connie, of Smockity Frocks.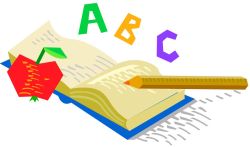 Homeschooling on a Budget
Being a stay at home mom means our family of ten lives on one income. Being a homeschooling mom means I have to be creative with homeschooling on a budget.
We don't have the funds to purchase new materials every year, so we implement a few things that help stretch our homeschooling budget. If you are wondering if you can afford to homeschool a large family, try these tips!
Use the library.
It's FREE!
We often check out books we need for literature or history. Our library lets us recheck books, so we can keep them for four weeks at a time, if needed.
We got special permission from our library to check out more books than they customarily allow. I talked with the head librarian and explained our family size and that we depend on library books in our homeschooling, and she was glad to oblige!
Use Paperback Swap.
It's FREE!
We can pass books on that we don't need in trade for books we do need. This cuts down on clutter.
Reuse workbooks.
Make copies of workbook pages.
Have children do the work on their own paper.

Use this handy tip for reusing worksheets.

I have used the same copy of Teach Your Child to Read through five children and eleven years! (See my video on using the book.)
Buy Used Books.
I check Ebay and homeschooling forums when I need a "new" book. I can often pick up the one I need for half price (or less!) than buying it new.
I have scored several great finds at garage sales of homeschooling families. One lady found out I homeschooled and GAVE me all of the books I was looking at FOR FREE!
Stick With One Curriculum
I try to stay with one curriculum so I can pass the books down to the next child in line, instead of constantly buying whole different set. Obviously, this doesn't apply if the curriculum is a terrible match for your family, but I have found that if I give up my illusion that there is one perfect curriculum, I can make pretty much anything work.
Use  Swagbucks
I accumulate Swagbucks and use them to buy gift cards at Amazon, which in turn, I use to get FREE books and school materials I need.
These are the tips that make homeschooling on a budget possible for this family of ten. How about you?
How do you manage expenses related to homeschooling?
Connie is a Christian homeschooling mom of seven and a half rowdy children, wife of one hunky golf pro, wiper of noses, writer of stories. She blogs regularly at Smockity Frocks.
For more frugal ways, visit Life As Mom.