I am typically not a casserole fan. Except when it comes to breakfast. Oh yes, there is nothing better than warm egg-y, cheesy, baked goodness in the morning.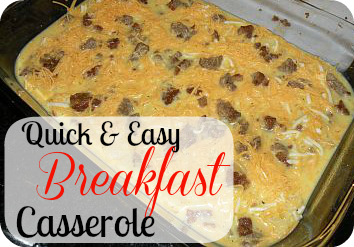 I have been making this particular casserole for years to share at MOPS meetings. The food of course, is a big reason I have enjoyed MOPS for the last seven years.

I usually throw this together in about ten minutes, but this can also be made the night before and then moved from the fridge to oven in just a few seconds.
This is what our family prefers, but you can easily adjust the amounts to suit your family's tastes.
Quick and Easy Breakfast Casserole
Ingredients
8-10 large eggs
1 1/2 cups shredded cheese (I prefer a combo of cheddar and Monterrey jack)
4-5 slices bread (sourdough is the best, but any bread will do)
1 cup milk
1/4 cup crumbled sausage
1/4 tsp. garlic salt
pepper to taste
Instructions
Preheat oven to 350 degrees.
Cut the crusts off the slices of bread and chop roughly into 1-inch cubes. Cover the bottom of a buttered 9×13 baking dish with the pieces.
Whisk together eggs and milk in a large mixing bowl. Add garlic salt and pepper.  Sprinkle about half the cheese evenly over the bread.
Then add the sausages crumbles and the remainder of the cheese.
Pour the egg mixture slowly into the pan, covering all of the bread.
Bake for approximately 25 minutes, uncovered.
Slice into squares and serve immediately (or as quickly as possible after loading up the minivan with two kids and heading to MOPS).
You might also try bacon crumbles or turkey sausage.  Or make it meatless and go for some zesty green chiles.
Casseroles are such a frugal and easy way to feed a large group of hungry moms. Enjoy!