I can hear you groaning. Another post about toilet paper? Yes, indeed. But this simple tip is potentially life-changing for those with young children. Or cats.
A huge factor in saving money is reducing waste. But how do you reduce waste in the bathroom? (No pun intended).
Does this scene look familiar?
How about this one?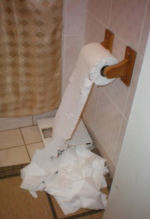 Sure, you can save money on toilet paper by switching to a high-quality value brand, like White Cloud, and using coupons. (Just had to throw that in there).

But to really save, you must simply use less. There is a simple way to prevent the debacles pictured above. I give you… The Roll-Squeeze-Under Technique: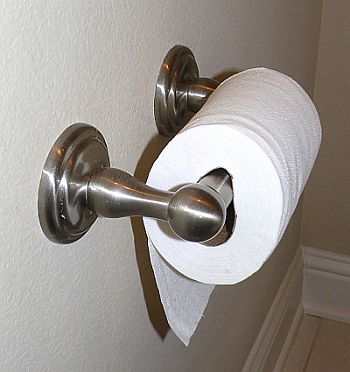 Before you install the roll on the holder, squeeze it together so that the tube is no longer round. For extra precaution against curious toddlers and mischievous kitties, hang it under.  This makes the roll unroll slowly and takes a little more effort, thus reducing extra use.
How easy is that? This simple trick will save money and sanity, not mention fewer clogs and flushes.
That works for me! For more frugal ways, visit Life as Mom.