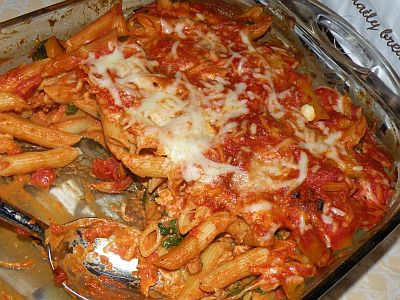 We eat a lot of pasta in our home. Seriously, I could eat it every day and never get tired of it. So I am always looking for ways to make it a little different when plain noodles and sauce just won't do.
I discovered my favorite way to enjoy pasta is baked. This hearty dish is similar to baked ziti, with some veggies snuck in. My kids adore this dish and go back for seconds! It is also a fantastic way to use up leftover cooked chicken breast. No one will ever know!
Chicken Pasta and Spinach Bake
Ingredients:

8 oz. penne pasta
1 Tbsp. olive oil
1 lb. chicken breast, cooked and cubed
1 tsp. Italian seasoning
1/2 tsp. red pepper flakes (optional)
1 28 oz. jar of your favorite spaghetti sauce
1 14 oz. can diced tomatoes, drained
1 3 oz. package cream cheese
2 cups fresh baby spinach
2 cups shredded mozzarella cheese
1/4 cup grated Parmesan cheese
Preparation:
Preheat oven to 350 degrees. Grease a  9 x 13 baking dish.
Cook pasta according to package directions for "al dente." Drain. Pour into prepared baking dish.
Heat oil in a large saucepan or skillet over medium-high heat.
Add chicken, seasonings, half of the spaghetti sauce and the drained tomatoes. Let simmer 2-3 minutes.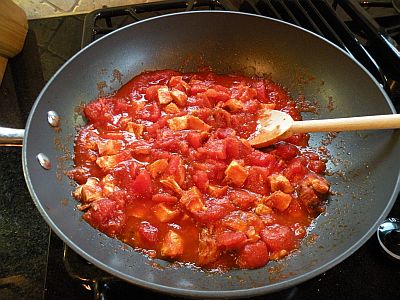 Cut cream cheese into small chunks. Add to chicken and tomato sauce mixture. Simmer until cream cheese is melted. It will turn a delightfully creamy shade of orange… mmmm.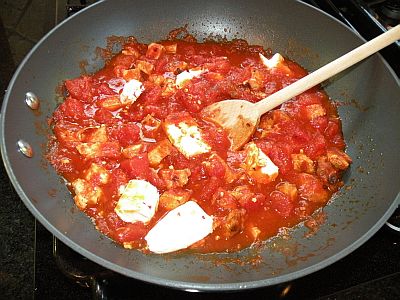 Stir in spinach. Cook another minute, until spinach wilts slightly.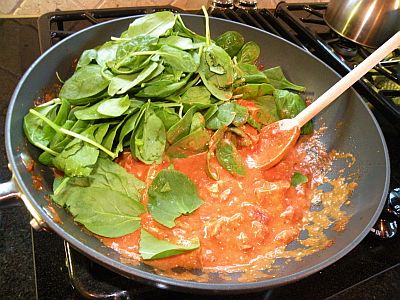 Pour chicken mixture over pasta, mix well.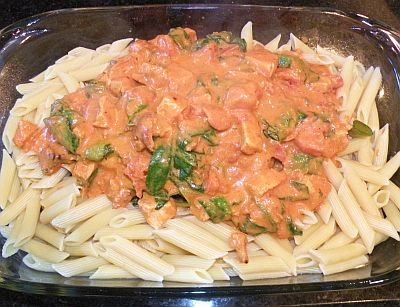 Top with one cup of the shredded mozzarella. Top with the remaining spaghetti sauce, remaining mozzarella and Parmesan cheese.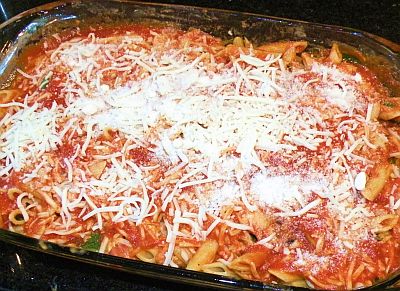 Bake, uncovered, 20 minutes, or until bubbly. Serve with a crisp salad and garlic bread.
This will also freeze well as a make-ahead dish. Double the recipe and save one for next time you are craving some Italian comfort food!
This post is linked to Tasty Tuesday and Tempt My Tummy Tuesday.