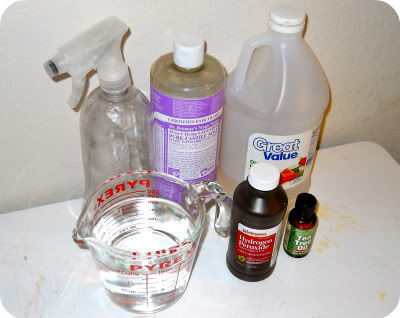 Adopting a frugal lifestyle involves learning to make things at home that you would otherwise buy at a store. Homemade cleaning solutions are one of the easiest ways to not only save money but also eliminate harsh chemicals in your home.
You probably know that vinegar is a must-have frugal staple for all sorts of cleaning tasks. But the biggest objection I often hear about using vinegar is the smell. Let me assure you that smell quickly fades, but if it still leaves you squeamish you will love this new recipe I discovered for all-purpose cleaner!
Here are the all-natural ingredients:
2 cups water
½ cup distilled white vinegar
1 tsp. Castile soap w/lavender oil (I love Dr. Bronner's, it lasts forever!)
¾ cup hydrogen peroxide
20 drops tea tree oil
Pour all ingredients into an empty spray bottle, shake well.
Spray & wipe clean. Safe to use on ceramic tile, wood, marble & granite.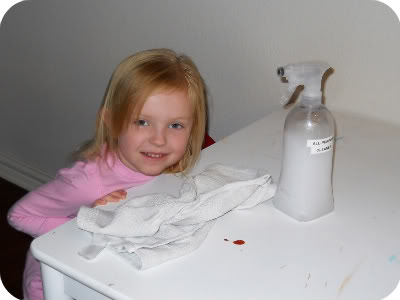 Safe for the kids to clean with, too!
Notice the cleaner is a cloudy white color, but wipes away clear. This works great on all sorts of gunk! The odor is light and pleasant, not at all harsh.
Read about other homemade cleaners I have shared here and here.
This one is my new favorite, and I plan to keep several bottles on hand throughout our home. With my very active one-year old getting into everything these days, I am thankful for this non-toxic recipe!
Linked to: Works for Me Wednesday