Marriage and money. Let me be brutally honest and tell you that I am really struggling with this post. Not for lack of passion, but quite the opposite. A child of multiple divorces myself, I am keenly aware of how the very mention of money can drive couples apart. So I am choosing my words carefully as I ponder my own marriage and what I have learned.
I believe the first place to seek wisdom about finances is God's Word. It has plenty to say on the subject. But a careful search reveals little about how money specifically is to be handled in a marriage. So, we must first go broader and learn about the Biblical model for marriage before we even begin to understand the ins and outs of nailing down a budget together.
Wives, submit to your own husbands, as to the Lord. For the husband is head of the wife, as also Christ is head of the church; and He is the Savior of the body. Therefore, just as the church is subject to Christ, so let the wives be to their own husbands in everything. ~ Ephesians 5:22-24
Six years ago, I had very little understanding of this model. I had read the verse above many times, but never truly grasped what it meant. In fact, the word "submit" made me bristle in defense. But on November 6th, 2004, I walked down the aisle full of hope, excitement, joy and love for my husband. Having met just five months prior, Troy and I had never even sat down to discuss long-term financial goals or even our debts.
Since I was raised by a single mom, and a single mom myself for four years, I was used to handling things MY way. I was all too comfortable being in complete control of the bills and the spending. This was not Biblical. It should come as no surprise that money often led to arguments and stress in our marriage.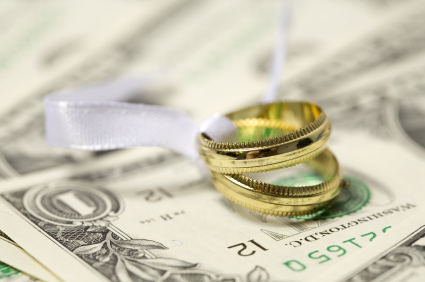 Today, by God's amazing grace, our marriage looks quite different. It took a lot of pain and many mistakes along the way, but money is no longer a major source of strife in our home. We are by no means perfect in this area, and we continue to learn and grow. But I can share a few key things I have learned about approaching money as a Christian wife:
1. There is no "mine" or "yours" in marriage. All income is considered "ours" and is entrusted to us by God.
2. Debt is also not divisible in marriage. Even prior debts.
3. Secret spending has no place in marriage. Any major purchases are discussed beforehand and disclosed.
4. I can honor my husband and the Lord by shopping wisely, and stretching our household budget with coupons and frugal practices.
5. Regularly and openly communicating about finances is a must. Setting goals, budgeting, giving and saving are important topics to discuss as a couple.
Action Item:
Evaluate money matters in your marriage. Is there room for improvement? Plan an appropriate time to discuss your concerns (hint: right before bed is not a good time!)

Recommended Reading: (try the library first!)
The Excellent Wife, by Martha Peace
+++++++++++++++++++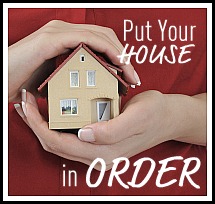 This post is part of  the "Put Your House in Order" blogging series. Together we are exploring the topics of food, children, decorating, faith and finances as they relate to our homes. Get caught up with New Beginnings.
For more inspiration, visit my fellow bloggers: