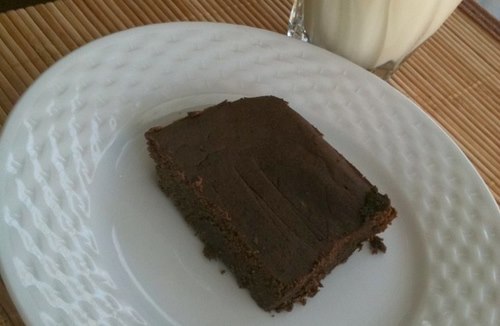 My husband's favorite baked goodies are brownies. My daughter and myself have recently gone gluten-free (and I feel wonderful, BTW!) The gluten-free brownie mixes I have attempted so far have been… well, lacking. So I was thrilled, and a little surprised, when a dear friend shared this recipe for brownies.
Black beans? In a dessert? I was skeptical, but willing to try it. Beans are a frugal staple in any pantry, and they are packed with fiber, iron and protein. If I can hide them in food to get my children to eat them, even better.
I was not disappointed by this recipe! It took just minutes to make, and my husband could not even guess the "secret" ingredient. The texture is not quite the same as regular brownies, but rich and delicious nonetheless.
Healthy Grain Free Brownies
2 cups black beans (or 1 can of no salt added)
3 lightly beaten eggs
1/3 cup melted coconut oil (or melted butter)
1/4 cup cocoa powder
1/8 teaspoon salt
2 teaspoons vanilla extract
1/2 cup honey (or other sweetener of your preference)
1/2 cup chopped up bittersweet chocolate (or semi-sweet chips)
1/3 cup finely chopped walnuts (optional)
This is so simple to make! Preheat oven to 350° and grease an 8×8 pan. Add all the ingredients minus the last two (chocolate and walnuts) into a blender or food processor. Blend until smooth and shiny. Stir in the chopped chocolate and walnuts. Spread into the pan and bake for about 30 minutes.
One batch costs under $2.00 and makes about 16 brownies. Even if you are not avoiding gluten, I know you will enjoy this healthy twist on a family favorite.
This post is part of: Tasty Tuesday, Tempt My Tummy Tuesday