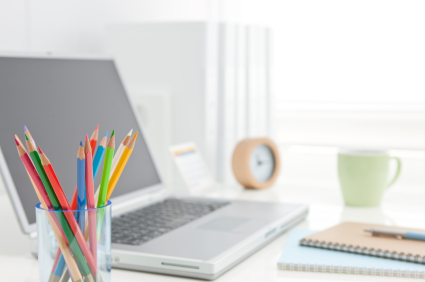 In many households, the arrival of spring brings a sudden urge to clean out the fridge, dust those pesky cobwebs from the corners, and overhaul the hall closet. The tradition of Spring Cleaning brings a fresh start before the busy summer season and a welcome change from the cold days of winter.
As you prepare your home for a thorough scrubbing, don't forget to add your finances to your checklist. I can hear you groaning. What do finances have to do with cleaning? And why add yet another task to the list? Well, since you likely recently filed your tax return, or plan to in the very near future (raising hand), now is the perfect time to reorganize and file those important papers.
Financial matters are also a major source of paper clutter. You know that pile on your desk you've been meaning to tackle? Now is the time! So let's get started. Today we are addressing the physical aspects of your finances. Later this month, we'll cover the intangibles.
Paper
The good news about spring cleaning your finances is that it can be done in just one afternoon with just 2 basic tools: a filing system and a quality paper shredder. Gather all those financial documents from around the house, including stray files and forgotten drawers.
Start by making 2 piles: KEEP and SHRED, of course!
First take those statements and bills out of their envelopes and unfold them for easy access.
Now start sorting. The general rule of thumb most experts recommend is 6 years for tax documents and 1 year for everything else. Old statements, bills and most receipts can go in the shred pile.
Keep W-2's and other tax records for filing, labeled by year. Do keep receipts for major purchases.
Immediately toss credit card solicitations and any marketing materials that tend to pile up.
If you are just starting a filing system, keep a separate folder for each utility, bank, insurance, pay stubs and so forth. Be sure to clearly label each folder. Place the oldest items in first so that the newest stays on top. As we go more and more paperless with online banking and bill pay, this step may not seem crucial until you need these documents for a home loan. So keep on filing just in case.
Frugal Tip: If you come across empty envelopes as you declutter, consider saving them for other uses such as coupons or school notes.
Coins
Now once you gotten control of the paper clutter, don't overlook that other money mess the home: loose change. I find it ALL over my house. Even with multiple bowls and jars just for this purpose, somehow it never quite makes it to the right spot.
Gather up loose bills and change and make a game plan. Are you saving it for a rainy day? Creating Christmas Jars? Or perhaps you are ready for a trip to Coinstar to exchange it for cash. It is not doing you any good just piling up, so decide how to handle it.
How do YOU spring clean your finances each year?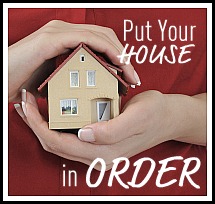 This post is part of the "Put Your House in Order" blogging series. Together we are exploring the topics of food, children, decorating, faith and finances as they relate to our homes. Get caught up with Modeling Stewardship.
For more inspiration, visit my fellow bloggers: