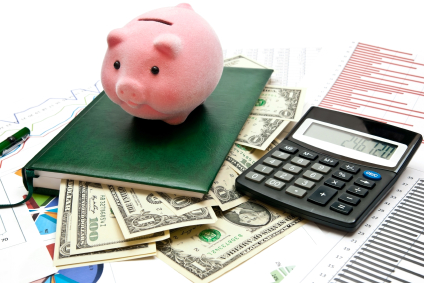 It's official. Spring is here! Have you started your spring cleaning? We last discussed how to beat financial clutter and get organized.  Now that your paperwork is in order, it's time to give the rest of your finances a thorough scrubbing!
You won't need a mop or a duster. Grab your computer and your files to get started.
Here are 5 steps toward a fresh financial start this spring:
1. Check your credit.
When was the last time your reviewed your credit report with a fine toothed comb? It is easy to obtain a free report, which you can then check over for any mistakes and assess your total debt. Do not be overly concerned with your score, it is the contents you should focus on. Learn why it is important to know your credit history.
2. Review your household budget.
A good budget is tweaked often, as income and expenses can fluctuate. If it has been a while, review your spending from the last three months to see what can be modified or where you need to cut back. You likely need to allow more for the rising cost of gas and groceries, unfortunately. If you do not have a budget to review, Mint.com is a free, user-friendly online budgeting resource I recommend.
3. Tie up loose ends.
Do you have stray bank accounts sitting open? Credit cards you don't use? An old 401k to rollover? Now is the time to get those closed or converted, since they are doing you no good sitting there. Life changes like moving or marriage can leave all sorts of financial loose ends to tie up. Streamline your finances to reduce paper clutter and simplify your life.
4. Review your insurance coverage.
Most families need life (term is best), home or renters, auto and health insurance. Shop around for competitive rates if possible. There may be a discount you are missing, or perhaps your deductible can be raised to save money.
5. Assess your financial goals.
Finally, after completing the steps above, you should have a very accurate view of your financial "big picture". Knowing where you stand with total debt, savings, income and expenses is very important. You can now nail down some long term goals for these numbers. Tackling debt should be a top priority, so use visuals to help you reach your goals.
Are you ready for a fresh financial start this spring? Which step is the most challenging for you?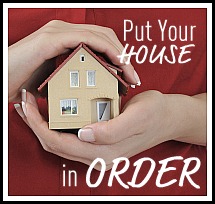 This post is part of the "Put Your House in Order" blogging series. Together we are exploring the topics of food, children, decorating, faith and finances as they relate to our homes.
For more inspiration, visit my fellow bloggers: