Pumpkin pies will grace many a table this Thanksgiving, and this receipe is one of my family's favorites!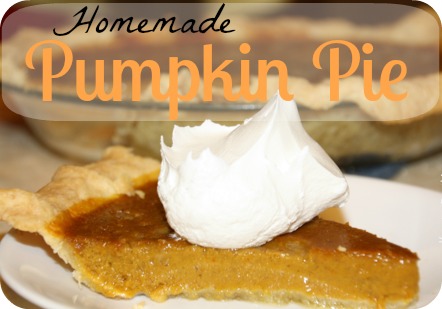 [pinit count="horizontal"]
This particular recipe hails from my great-aunt, and while I'm sure my version is not as tasty as her's was, I'm pretty sure she would be proud of my pie-making skills.
The BEST Pumpkin Pie Recipe
Ingredients
2 farm-fresh eggs
1/2 cup organic brown sugar
3/4 cup raw milk
1 cup pumpkin (I like to make my own pumpkin purée)
1/2 tsp. cinnamon
1/4 tsp. ginger
2 Tbsp. butter
Directions
Beat the eggs and sugar with a mixer, either stand or hand-held.
Mix in the milk.
Add remaining ingredients, mixing well.
Carefully pour into a 9″ pie crust.  For the crust, I am using a delicious, homemade pie crust.
Bake at 350°, for 35-40 minutes.
This is a very basic recipe, without a lot of frills, but it is definitely a crowd-pleaser!

Does your family have a favorite Thanksgiving dessert?