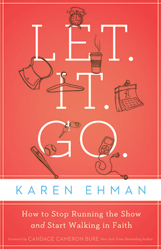 The following is a guest post from Karen Ehman, author of LET. IT. GO.
Do you find it hard to follow God? I do. My self-reliant personality would much rather do things myself; make my own plans; forge my own path. And being a mom, where many decisions have to be made and actions taken, only worsens the problem. After all, "mother knows best" right?
Not always. But God does.
It has been a long hard road for me to learn that God knows best and that sometimes other people's ways are smarter than mine.
Which includes my husband. YIKES!
You see I am also a card-carrying member of "control freaks anonymous". I want to control all of the decisions in my home and marriage too.
Can you relate?
What has helped me is to study the lives of biblical characters who went their own way; who didn't consult their Father. The results were disastrous, at best. Sometimes downright deadly.
So I read about the lives of Sarah and Abraham, who lied to try to change circumstances. Or Joshua, who was tricked by an entire Gibeonite army, who seemed like they were from afar with their moldy bread and old wineskins, but who were actually from nearby and dangerous. No one bothered to inquire of the Lord whether or not to believe them. The result was not pretty.
There are others–Ananias and Sapphira. They met an awful fate for going their own way. Or even those biblical characters who did hear from God and knew what they should do, but refused to do it. Ahem…Jonah? Anyone up for riding around in the belly of a whale for a three day trip?
I pray that all of us learn to pause. In the small things and the monumental. To consult God before answering a child or responding to our husbands. And to seek Him out before making a major decision.
As a result, we will spend much less time wandering and more time walking in step with our Creator.
How about you? How do you practically follow God in your daily life?
Giveaway
Karen has generously offered two Kingdom First Mom readers a copy of her book!
Enter to win 1 of 2 copies of Let. It. Go. (email subscribers need to click through to the post to enter)
To enter, simply leave a comment. That's it! The giveaway will end on Thursday, 12/6 at 5 pm, CST.
About Let.It.Go.:
Women are wired to control. We make sure the house is clean, the meals are prepared, the beds are made, the children are dressed, and everyone gets to where they're going on time. But sometimes our strength of being conscientious can morph into the weakness of being a slight—or all out—control freak! This humorous, yet spiritually practical book will help you learn how to control what you should, trust God with what you can't, and more importantly, decide which one is which! Join Karen Ehman, a recovering control freak, as she enables you to:

Draw the line between mothering and micromanaging
Influence your husband instead of manipulating him
Take control of your schedule yet welcome interruptions from God
Learn to control your emotions when you can't control the circumstances
Stop pursuing the appearance of perfection and start pursuing the person of God

Purchase the book:
Let. It. Go. via Proverbs31.org
Let. It. Go. via Amazon.com
About Author: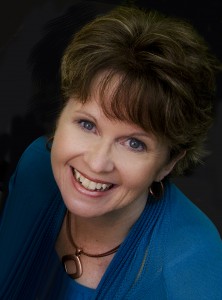 Karen Ehman is the Director of Speakers for Proverbs 31 Ministries' national speaking team. A five-time author, her books include A Life That Says Welcome, The Complete Guide to Getting and Staying Organized and the popular ebook Untangling Christmas: Your Go-to Guide for a Hassle-free Holiday. She is a favorite presenter at Hearts at Home moms' conferences and a sought-after speaker for women's events. She has been a guest on national television and radio programs, including The 700 Club, Engaging Women, The Harvest Show, Moody Midday Connection and Focus on the Family. Karen also is a contributor to Focus on the family's magazine Thriving Family. She lives with her family in central Michigan.
I received a copy of Let. It. Go. for the purpose of review. As always, all thoughts and opinions are mine!