Yes, back-to-school is right around the corner, and even homeschoolers need supplies. 😉 Some of my very favorite back-to-school items are Mabel's Labels. We have used these for years, and it's always exciting when we need new ones. They are incredibly nice and last for a long time.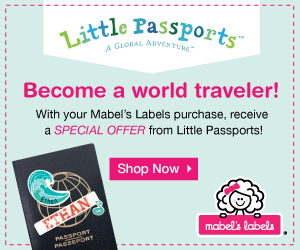 Through July 31, you can get early-bird pricing on Mabel's Labels Ultimate Back-to-School Combo, making it $39. Plus, all US orders ship for free!
About the Ultimate Back-to-School Combo Pack:
This bestselling kids' school label combo pack includes all the durable, waterproof labels needed to keep belongings out of the lost and found. Available only until September 30th, our awesome kids' labels for school are a must have on your back-to-school shopping list!
Choose from 4 limited edition solid palettes or 40+ multi-coloured designs, plus 3 special back-to-school motifs (bus, books and apple)!
Included in the Ultimate Back-to-School Combo Pack:
40 Skinny-Minis™ (1-1/2″ x 5/16″, dishwasher and microwave safe)
50 Tag Mates™ (13/16″ x 3/8″, washer and dryer safe)
16 Shoe Labels (1.3″, waterproof and UV resistant)
2 Teeny Tags™ (1-1/4″ x 3/4″, waterproof and UV resistant)
The Tag Mates really are washer/dryer safe… for years. They can take a beating. When Abby Grace went to Children's Camp last summer, we labeled her clothing with Tag Mates (and when we ran out, just the regular Sticky Labels). The Sticky Labels are just now coming off (after an entire year of washing), but the Tag Mates are still going strong. And remember… the Sticky Labels were just regular labels, not the ones specially made for the washer/dryer. I love these labels for good reason. Ha!