The Environmental Working Group has released their Dirty Dozen and Clean Fifteen lists for 2014.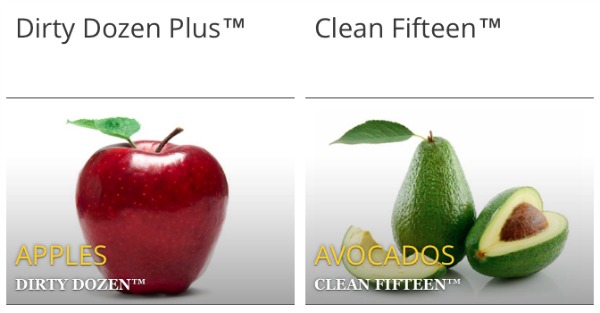 EWG publishes its annual rating of conventional foods with the most and least pesticide residues to fill the void left by the U.S. Environmental Protection Agency, which has largely failed to tell Americans they have a right to know about the risks of pesticide exposure and ways they can reduce pesticides in their diets.
The Dirty Dozen
Apples
Strawberries
Grapes
Celery
Peaches
Spinach
Sweet Bell Peppers
Nectarines (Imported)
Cucumbers
Cherry Tomatoes
Snap Peas (Imported)
Potatoes
+ Hot Peppers
+ Kale/Collard Green
Each of these foods contained a number of different pesticide residues and showed high concentrations of pesticides relative to other produce items. For the third year, the Dirty Dozen™ has been expanded with a Plus category to highlight two foods that contain trace levels of highly hazardous pesticides.
Every sample of imported nectarines and 99 percent of apple samples tested positive for at least one pesticide residue. *source
The average potato had more pesticides by weight than any other food. *source
A single grape sample contained 15 pesticides. Single samples of celery, cherry tomatoes, imported snap peas and strawberries showed 13 different pesticides apiece. *source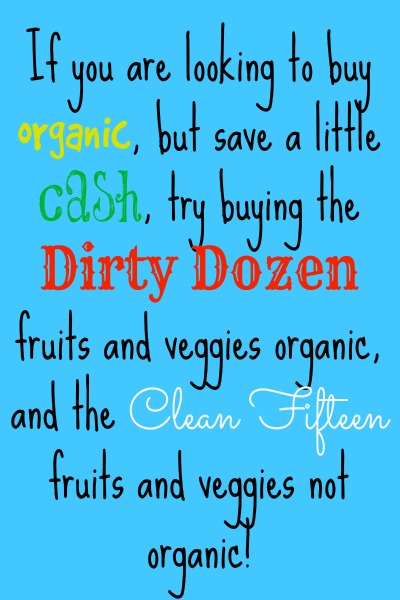 The Clean Fifteen
Avocados
Sweet Corn
Pineapples
Cabbage
Sweet Peas (Frozen)
Onions
Asparagus
Mangoes
Papayas
Kiwi
Eggplant
Grapefruit
Cantaloupe
Cauliflower
Sweet Potatoes
Relatively few pesticides were detected on these foods, and tests found low total concentrations of pesticides.
No single fruit sample from the Clean Fifteen™ tested positive for more than 4 types of pesticides. *source
Detecting multiple pesticide residues is extremely rare on Clean Fifteen™ vegetables. Only 5.5 percent of Clean Fifteen samples had two or more pesticides. *source
To make shopping for your Dirty Dozen and Clean Fifteen easier, you can download the app for your iPhone/iPad, Windows Phone, or Android.
As always, please do what works for your family. Some of these products may or may not be a fit for your family, whether organic or non-organic.