Ok. This is going to be the last post about weaning. So, if you are male or uninterested in this topic, feel free to bypass this one. 😉 I also wrote this in bits and pieces, so some of it is written in the present tense, and other parts are written in the past tense. I know, I know. I don't like it either, but it is what it is.
Thanks a million to those of you who have checked on and prayed for me these last few weeks. It means a lot. Really, it does. <3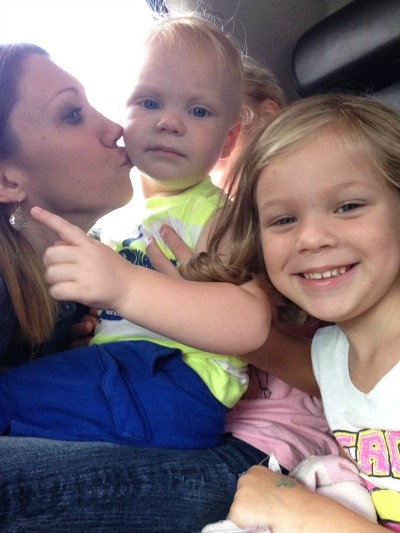 Leaving my babies in good hands!
I don't usually "do" drama, but I feel that this is written a bit dramatically. I apologize in advance.
The night before – After the tears (mine) and after finally getting little man to sleep, I went to sleep myself. I did nurse a bit throughout the night, as I really wanted my husband to get some sleep before camp. 
10 am on Monday – I just dropped Cam off with lots of kisses and hugs. My heart is overwhelmed. His fat little hand waved as he kicked his legs in excitement about leaving with his MeMe and PaPa. He took part of my heart with him. I haven't been away from him overnight, ever. There have been a few times I got in after midnight, and he went to bed for his dad just fine, but always woke up looking for me. I am praying he doesn't look for me tonight.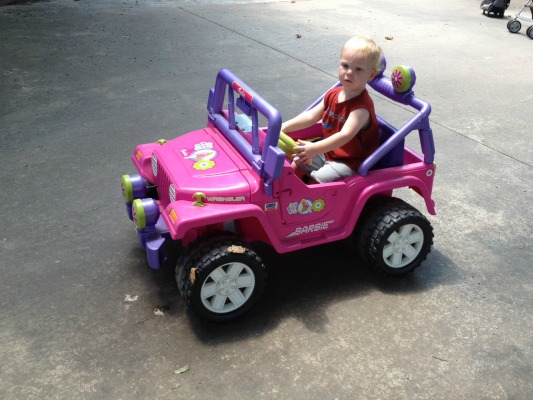 Picture from my mother-in-law. Watch out for this crazy driver!
There was no "last" nursing session. He woke up looking for me at about 5 am, and he nursed back to sleep. I laid him down. When he woke up for good this morning, he asked for his Dad. He never once asked to nurse or tried to nurse. He knew. Even when he got upset and he asked to be held and comforted, he didn't try to nurse. I didn't mention it, either.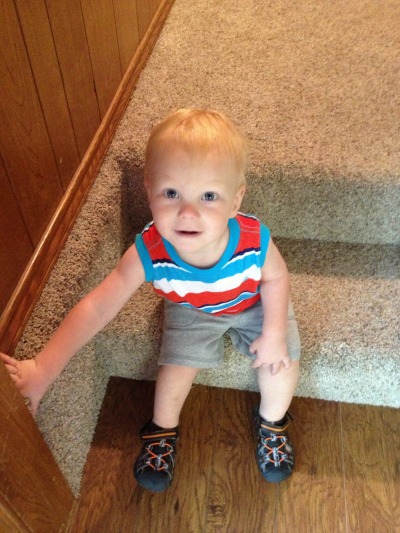 Another one from my mother-in-law. He loves his new shirt and shoes!
I guess I shouldn't be surprised that he didn't ask. I've been telling him for a solid week at every nursing session that it would be over soon. I told him last night as we settled in for our last bedtime session and he looked at me with solemn, serious eyes and nodded. I thought, Does he really know what I'm saying? He can follow directions (Cam, get the ball and bring it to me.), so I just tried to prepare him for this with words, just in case he got it. At this point, it seems he has.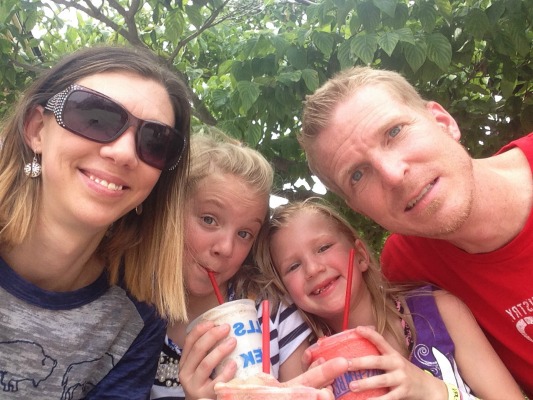 Icees at Falls Creek are a must-have!
I will spare you most of the details and just say I tried every remedy under the sun, including Sudafed and ibuprofen. By Thursday, I was worried that I wouldn't be dried up by Saturday. I googled, checked all of my books, and called my nurse, who told me to take Sudafed. She said it, "dries everything up." Okay. I thought it was odd, but considering I had two days left, I went for it. I spoke to the pharmacist when I decided to try the Sudafed, and he also recommended camphor oil or something like that. It smelled to high heaven. Ha! The poor pharmacist (whom I had never met) was so kind to this hapless, crazy-eyed woman. I tried to appear sane, y'all, I really did.
Well, two days and an almost-empty box of Sudafed (I do NOT recommend this! I was desperate!) later, I was no better. The thing that finally dried me up? Pumping. Yep, the thing you AREN'T supposed to do (who makes these rules?!) was the ticket! After I got home, I pumped for 45 minutes. I pumped two more times that day and then once on Sunday. Whew!
As far as camp went, we had a great time. We had around 73 students – less than usual – but it was a good group, and we had a lot of fun.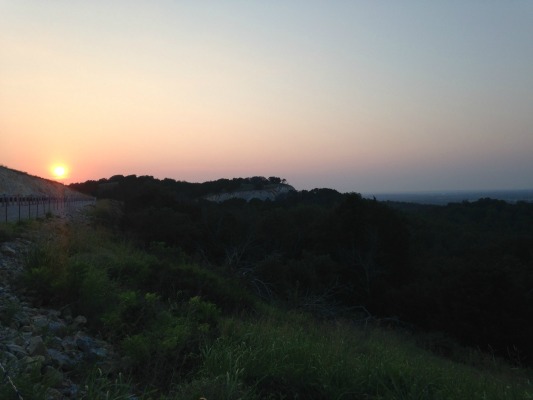 View from the "high road" at sunset.
And as for Cam, he did just fine. In fact, when I went to pick him up, he gave me a dirty look and walked away from me. Ouch. He finally gave me a hug, and I'm pretty sure he forgave me for leaving him. Guess what he did not forget? That's right! When nap time came along that afternoon, he pointed to "our" rocking chair and pulled at my shirt. "Nummies!" he cried. He was not thrilled when I passed him off to his dad, but we made it through.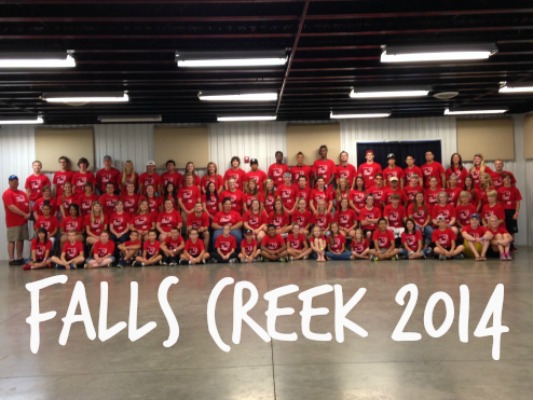 Most of our "crew."
If you are still reading this, God bless your heart. I promise I'm almost finished, and the best is yet to come.
He has done great ever since, although he still talks about nummies, all. the. time. Instead of nursing, we read, rock, and/or sing. He is also learning to "talk" himself to sleep. We moved his bed next to ours, because we wanted to replicate what my mother-in-law had done the week we were gone, just to make this transition easier on him. He's slept in his bed a few times, but still prefers our bed. That's fine with me because – sit down for this one – HE IS SLEEPING THROUGH THE NIGHT almost every single night. And when he does wake up, it's briefly, and he goes right back to sleep. This means *I* am sleeping for 7-9 hours at a time. Sleep, blessed sleep.
I still get a little nostalgic when we rock. But I am glad to be finished and very happy to be getting more sleep! Ha!