If you are looking for K'NEX Building Sets, today is the day! Amazon is offering several K'NEX Building Sets during their lightening deals. These are only available throughout the day today, so be sure to check them out.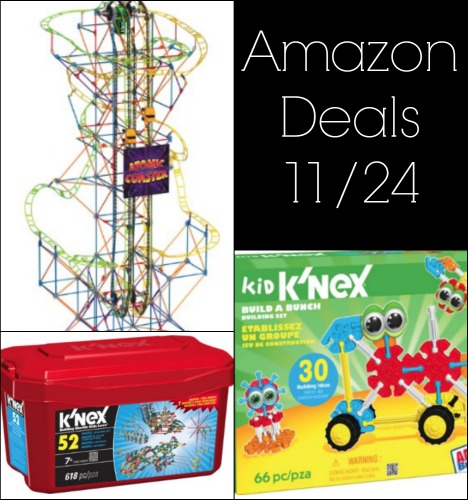 You can also get these deals today:
This is just a reminder… each item is a lightening deal, and goes on sale at a different time. Be sure to see when your favorite toy goes on sale so you are ready for it. Once an item is gone, it is gone, and will be back to its regular price. Check out all of the toys available on Amazon right now.
Plus… many of Amazon's Black Friday deals have FREE shipping with qualifying $35+ orders OR FREE 2-day shipping with Amazon Prime
. There is a free, no obligation 30 day trial available if you have never had Prime. Some of the lightening deals are available to Prime members 30 minutes before everyone else, so a free trial of Prime might be something to consider trying this busy shopping season.
If I post individual deals, they will be on my Facebook pages (I was hoping they would get merged before Black Friday, but it hasn't happened yet. I'm so sorry!): Amy Loves It and Kingdom First Mom. Make sure you have liked both of those pages and are following them if you are interested in seeing the deals this week. After Christmas, the posting amount goes way down.