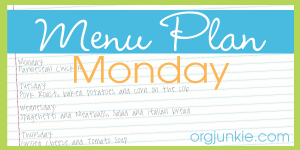 When I asked you to fill out the survey last month, several of you mentioned that you would like to see more on menu planning. Well, I am no expert, and have fallen off the menu planning wagon as of late, so I am thrilled that you asked for it!
Each week, I will share my menu with you, linking to new recipes and old favorites. Hopefully, this will help me get out of the food rut I've been in, and help you guys find fresh ideas!
Monday 1/7
Breakfast – Oatmeal
Lunch – Homemade Chicken Noodle Soup
Supper – Spaghetti with Red Sauce and Meatballs
Tuesday 1/8
Breakfast – Scrambled Eggs, Toast, Bananas
Lunch – Leftover Spaghetti
Supper – Tilapia, Rice with Spinach
Wednesday 1/9
Breakfast – Bananas and Yogurt or Smoothies
Lunch – Peanut Butter & Jelly, Apples
Supper – Stew, Cornbread
Thursday 1/10
Breakfast – Fried Eggs
Lunch – Macaroni and Cheese, Apples
Supper – Meatloaf, Mashed Potatoes, Corn
Friday 1/11
Breakfast – Banana Bread
Lunch – Leftover Meatloaf
Supper – Alfredo Pasta (recipe for Alfredo sauce in the Easy. Homemade. ebook), Cheesy Bread, Salad
Saturday 1/12
Breakfast – Oatmeal
Lunch – probably will eat out; girls have basketball games out of town (and they are split up by 2 or 3 hours) and I am also out of town at a CC practicum
Supper – White Chicken Chili in the Crockpot
Sunday 1/13
Breakfast – Waffles
Lunch – Youth Leaders luncheon
Supper – Leftover White Chicken Chili
I have actually thought of trying to plan my menu a month in advance. Have any of you tried it? Do you like it better than a weekly plan?
Linking up to Org Junkie's Menu Plan Monday!