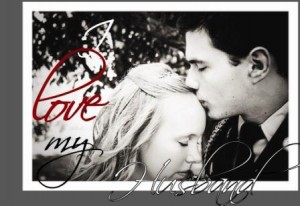 Admit it.  There are days you wish you were not married.  Days that you wish you did not have to love your husband.  Hopefully, this is not the case every day; but even if it is, there is hope.
No one has a perfect marriage.
Adam and Eve in the Bible had the greatest chance of anyone for a so-called perfect marriage, and you remember what happened to them?!
While I believe it takes three to make a marriage work, I will mainly focus on the wife's duty to her marriage… since that would also be coming from my perspective.
I have been married to my husband for over 7 years now, and I have to say that the last few months have been the BEST of those seven years.
Our secret is really no secret at all.  We decided to love one another.
Not the sweet, sappy, "oh-we-are-so-madly-in-love-with-each-other," type of love.  But the commitment kind of love.  The love where we put one another ahead of ourselves.
Before you start thinking we might have something resembling a perfect marriage, I am here to tell you we do not.  We fight… just with less anger and loud words (although there are times we I slip).  We disagree; we just try to be more polite about it.
I am no expert in the field of marriage, and neither is my husband.  That being said, we do not want to be forty years down the road with an empty nest and not really "know" each other anymore.  While we have not been anywhere close to divorce in our seven years of marriage, we have moved away from being a "couple" to being "parents."
Our Sunday school teachers have been married for many years.  They are such a beautiful example of what marriage should be.  It has not always been that way for them, and they remind us couples of that every week.
I don't want to waste my marriage on "little" things that truly do not matter.  I want to focus on my husband's good points, rather than the not good.  (I also want to make sure he sees the good in ME, too!)
My husband and I are on a journey of discovering what real love is.
I hope you will join us, and make the commitment to learn to truly love your husband.
Design by: Amy Loves It! *Photo by: captg*