Reese got sick during the night again, so she and I stayed home from church. She was feeling fine, so we spent the morning making a lapbook for part of this week's curriculum.
I took aspects of several lapbooks, pumpkin crafts, pumpkin pictures, and my own ideas and came up with our book.
Pumpkin Lapbook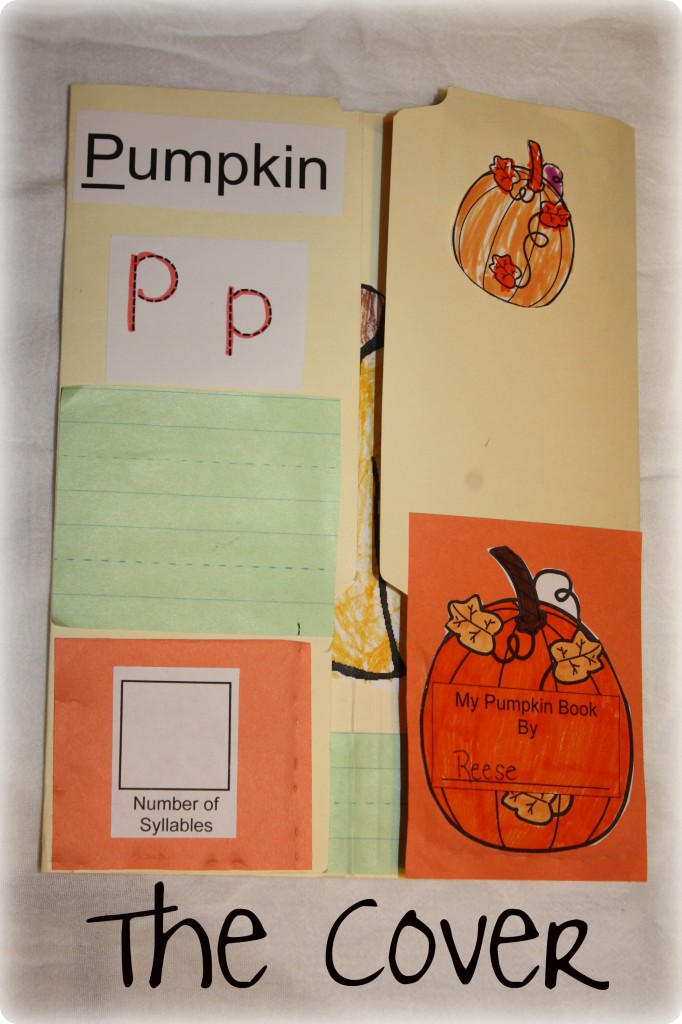 On the cover, we have the introduction/title of the lapbook, a place to practice writing the letter "P" and "p", and a box to write the number of syllables in the word.
We also have the cute little pumpkin colored by Reesey, as well as, her "My Pumpkin Book" byline.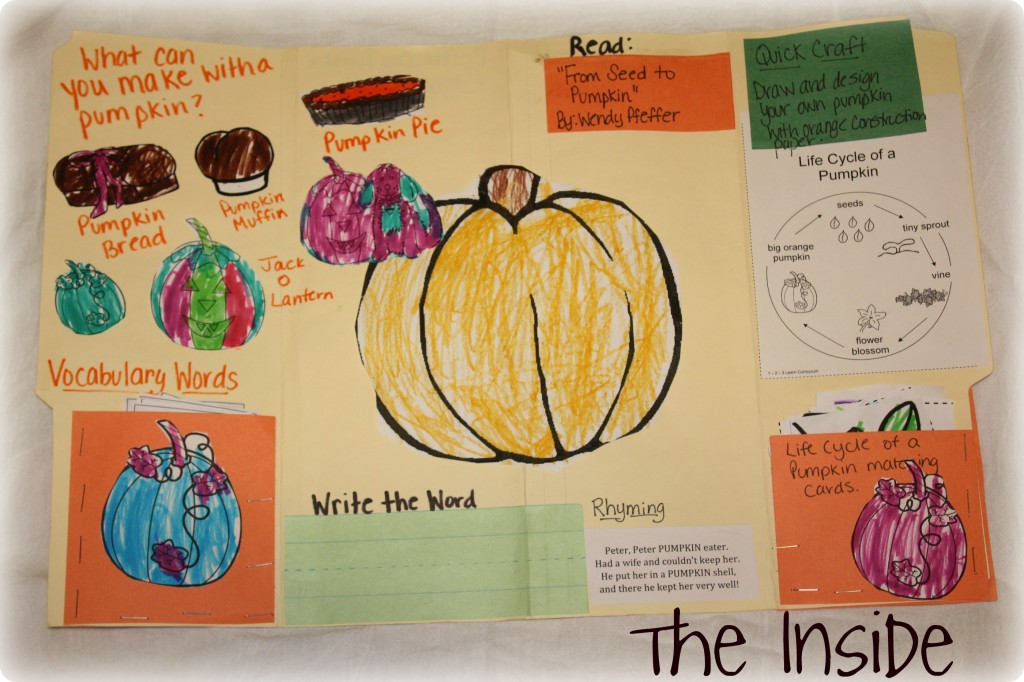 In the inside is where we find most of the activities and work.
At the top left, we see, "What can you make with a pumpkin?" These were intended to be pull-out cards, but Reese wanted to cut them out and glue them onto the book, which was fine.
On the bottom left, we have pull-out vocabulary words, which include, "pumpkin," "stem," and "autumn."
In the middle, you can see Reese's beautiful pumpkin, and below is a place to write the word, along with a little nursery rhyme.
In the top left corner is the title of the book we will be reading, and a "quick craft."
Below that is a picture of the Life Cycle of a Pumpkin, and pull-out cards that match the cycle. The girls will be able to assemble the cycle themselves with these cards.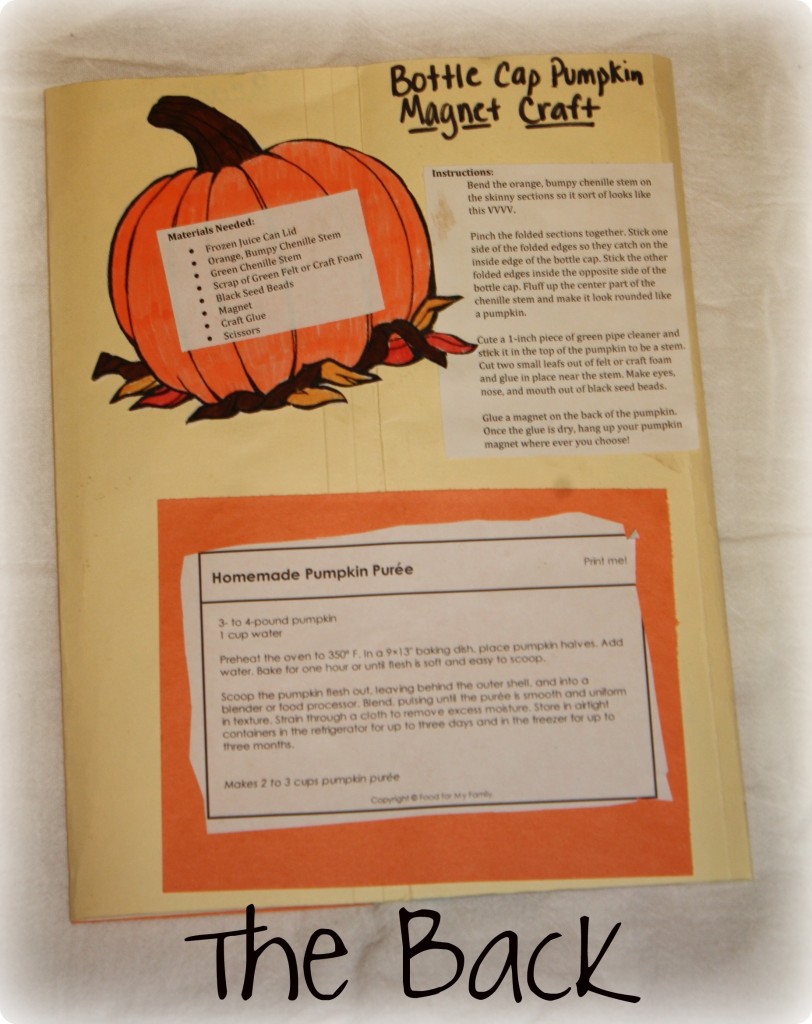 On the back cover, we have the main craft and the recipe to make Homemade Pumpkin Purée.
We will span the work of this project over a few days, and use supplemental materials not shown here. Some of these supplemental materials include: picking out a pumpkin, playing with different-sized pumpkins to determine largest to smallest, and carving a pumpkin.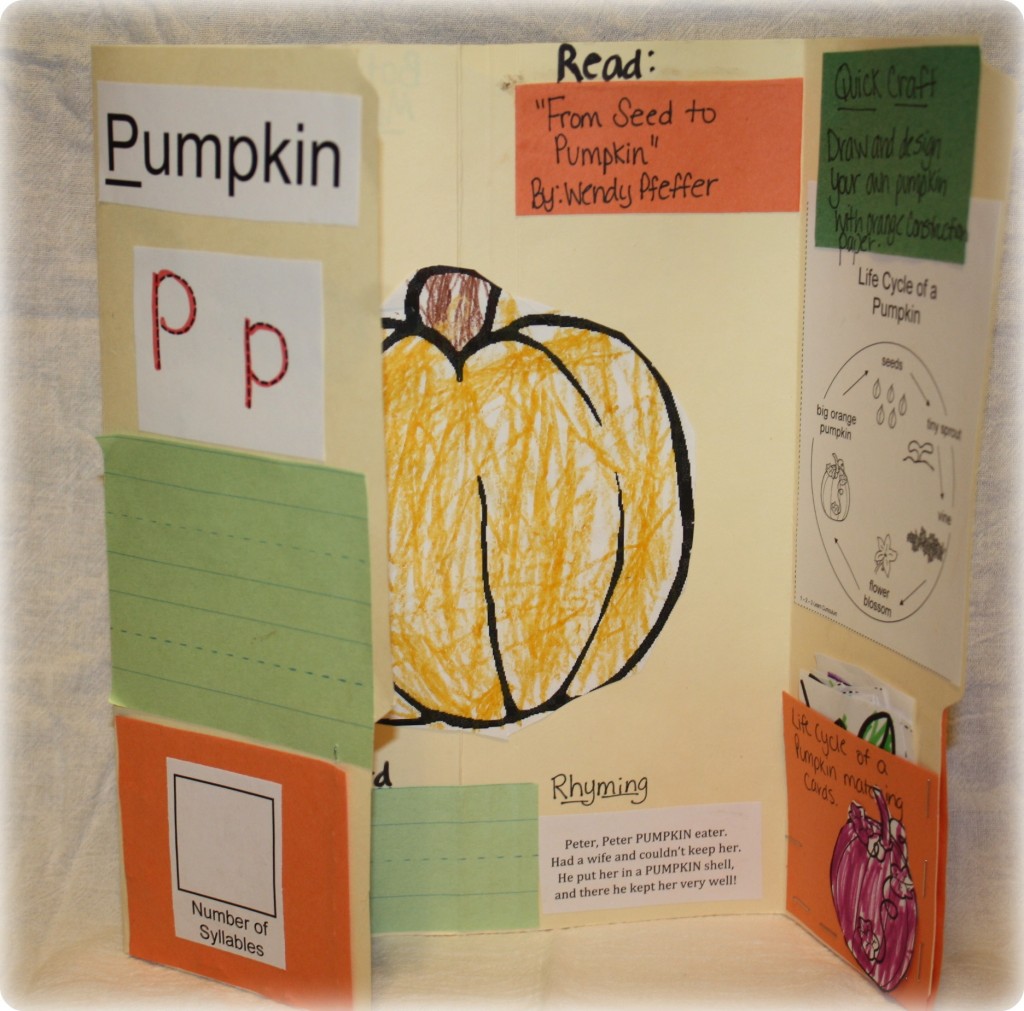 Linked to: Things I Love Thursday
:: Sources ::
:: Pumpkin Lapbook :: Squidoo
:: Bottle Cap Pumpkin Magnet Craft :: Family Crafts
:: Laptop Pumpkin Printables :: 1-2-3 Curriculum
:: Pumpkin Life Cycle Printables :: A to Z Teacher Stuff
:: From Seed to Pumpkin
:: Amazon
:: Homemade Pumpkin Purée :: Food for My Family
:: Lapbook Tutorial :: Molding Minds Homeschool