In addition to eating more organic and natural foods, our family is incorporating more natural products as well.
One of those is changing from antibacterial hand soap to natural, homemade foaming hand soap.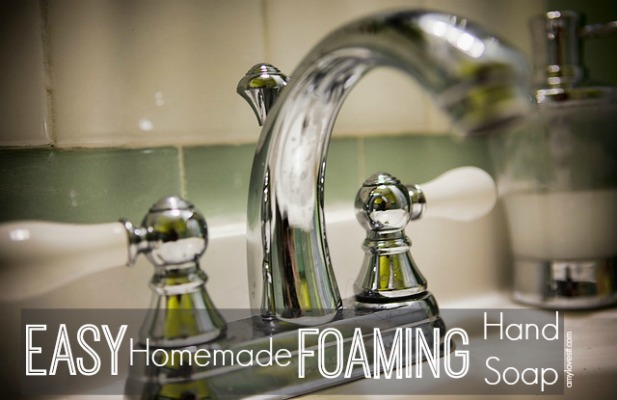 It is really easy to make your own hand soap.
What you will need:
I added a few nice squirts (probably about 1-2 tablespoons) and then slowly filled the container with water. Slowly filling will keep it from foaming up too quickly, thus causing you to have more foam than water.
That's it!
Why would we do this, you might ask.
Well, other than it being super-cheap and extremely easy (it took about thirty seconds from start to finish to make this soap), homemade hand soap is much healthier than antibacterial soap.
Regular antibacterial soap contains a chemical called Triclosan. Triclosan kills both bad AND good bacteria… and that's just the start of our problems with it. Triclosan also 'contributes to "bacterial resistance" because bacteria who are naturally resistant to the chemical survive, then reproduce'. source
Ick.
I'm also not big on "smelly" soaps and perfumes, and this soap has a nice, light, clean scent to it. Nothing overwhelming; just a hint of a scent.
Homemade, natural hand soap is just one (easy!) step in our journey to living better.
:: Resources ::
:: Live Renewed (Simple Steps)
:: Live Renewed (Change Challenge)
:: Kitchen Stewardship (Get Out the Antibacterials)
:: Kitchen Stewardship (Triclosan)
:: Wikipedia (Triclosan)
:: photo credit ::