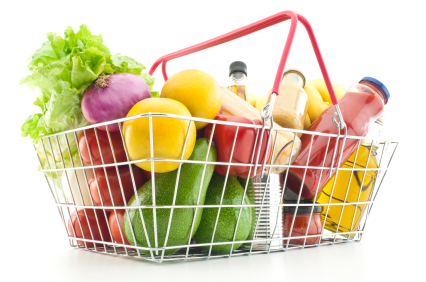 Have you noticed anything different about your grocery receipts lately? Eating well on a budget is no easy task, and it's getting tougher by the day. Not one to throw up her hands, Jessica of Life As Mom has assembled a team of bloggers to help you maximize your savings in the kitchen. Our Eat Well, Spend Less series will cover critical topics about saving money on food costs, including bulk storage, pantry staples, coupons, and much more.

The series will run over the next three weeks on nine diverse blogs. Are you ready to dig in and learn?
Coupons and Healthy Choices
Do the words "coupon" and "healthy" belong in the same sentence? Perhaps. First, let's be clear that we all have our own ideas of what healthy eating looks like. For some, this means cooking entirely from scratch with organic ingredients and freshly ground wheat. For others, including myself, healthy means cooking from scratch and eating organic whenever possible, with a few convenience foods thrown in as needed. No matter where you fall in the healthy spectrum, we all want to save money in the kitchen. Coupons can be part of this goal if you use them strategically.
Healthy couponing will never look like Extreme Couponing. A commitment to eating quality foods means you are committed to spending more on groceries. I learned the hard way that stocking up on whatever was free or cheap was not the best way to nourish my family. I made some changes, our grocery budget went up, and our health improved. Coupons still play a role, albeit smaller.
Once you understand the basics of using coupons, you can apply that knowledge at the grocery store to make healthy eating choices. But this will require a little creativity. The vast majority of coupons you will find in your Sunday paper are indeed for processed convenience foods. Some may fit into your lifestyle, others may not. My goals for the food I purchase include minimal ingredients, healthy fats  like olive oil, real butter and coconut oil, and organic if possible.
Finding coupons for organics is not impossible, with some helpful resources:
:: Coupon Database – This free searchable resource is right here on my blog. In it you will find data for nearly every current coupon in existence. By searching for your favorite organic/healthy brands, you can quickly locate the coupons you need.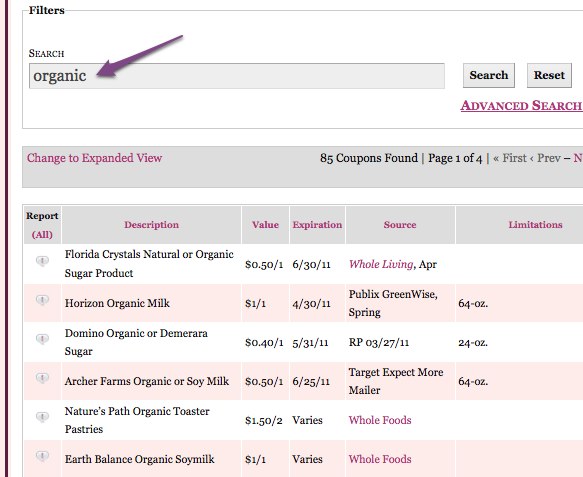 As you can see, a quick search for the term "organic" revealed 85 available coupons for organic products. Some are printable, some are from newspaper inserts and others may come from a mailer or magazine.
:: Blogs – A desire for healthy and natural living along with the desire to save money has birthed entire blogs devoted to those very topics. Check out Saving Naturally and Organic Deals for daily deals and savings tips.
:: Brands – Many popular organic brands are well known for their coupons, including Cascadian Farms, Muir Glen and Stonyfield. Visit their websites directly to search for savings, and don't be afraid to reach out and email them for additional coupons.
:: Stores – Finding healthy options is easy at stores like Sprouts, Whole Foods, and even Kroger, all of whom accept coupons! Be sure to get on their mailing lists if you shop at these stores for more savings.
Beyond Coupons
If coupons just aren't helping you save enough, or perhaps they are not for the items you need, there are other strategies I practice to get the foods we eat at a price I am willing to pay.
:: Grocery Shop Online – I purchase many of our non-perishables on Amazon using their subscribe-and-save feature. They carry many harder to find items like gluten-free flours and healthy sweeteners. With free shipping right to my door, I don't mind ordering in bulk.
:: Managers Specials – If you want a sweet deal on organic produce, milk or meat, look for markdowns at your local grocer. Often these are days away from expiring so get creative in the kitchen or be sure to freeze them for later use.
:: Join a Co-Op – Nothing beats seasonal fresh produce by the bagful. Check out LocalHarvest.org to see if there is a CSA in your area. Preserve your food to enjoy out of season and keep a stocked pantry.
:: Azure Standard – This Oregonian company delivers healthy food by the truckful in select areas directly to customers and buying clubs. See if there is a drop point in your area for this wonderful service.
Do you think eating healthy and saving money go hand in hand? I'd love to hear your thoughts!