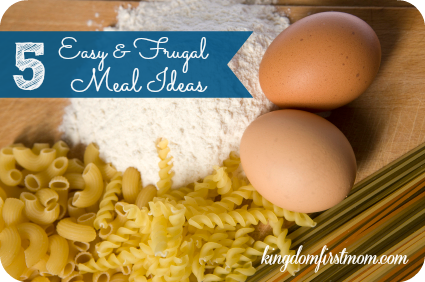 As a young bride several years ago, I found myself hopelessly lost in the kitchen when it came to putting together a complete meal for my family. After four years of "cooking" for just me and my daughter, my quick fix meals for two just didn't cut it anymore. I found myself relying on store-bought convenience meals and frozen pizza all too often.
Thankfully for my husband (and children!), I have come a long way since then, but I am still a work in progress. I also struggle with the temptation of eating out, so if I am not prepared to make a meal, it is all too easy to bring home takeout. This is not only hard on the budget, but certainly our health.
There are several strategies I have embraced to make meal time a success in our home. First and foremost, I like to keep it simple. The times I have brought out my inner foodie and went all "gourmet" were total flops. Simple meals, around five ingredients or so work well with my picky eaters and save my sanity.
My next trick is using garlic liberally. Seriously. It makes the whole house smell delicious and my husband adores it. Even the simplest meal of beans and rice is made tempting with some fresh garlic thrown in.
In addition to garlic, I cook with lots of healthy FATS. Comfort foods satisfy for a reason. The body needs those fats! I find that adding real butter to fresh vegetables makes them more palatable to my children. I sneak butter into soups and pasta, fry eggs in it, and include olive and coconut oil whenever possible.
The biggest key to meal planning is a well-stocked pantry. Back in the day when I was seriously couponing, my pantry was bursting at the seams, but not necessarily with ingredients for eating well. Now that I have simplified, I keep basics on hand so that I can always throw together a meal. My pantry musts include lots of beans and rice (of course), stocks, potatoes, garlic, onions, pasta, canned tomatoes, flours, and more. Always in my freezer are frozen veggies, fruits, chicken and beef.

With these strategies in mind, I am sharing five of my favorite frugal meals. This was not easy to narrow down, since I love trying new recipes, but I often return to these five favorites.
1. Pasta
We enjoy a pasta dish about once a week (now gluten-free). Pasta is kid-friendly, cheap and filling. It can be made in so many ways you'll never run out of recipes to try. One of our favorites is this Chicken & Spinach Pasta Bake.
2. Beans and Rice
Ah yes, the old frugal standby. This is also versatile in that rice and beans will adapt to any flavor you serve them with. You can add ground beef or toppings for a new twist. My kids prefer them with a side of chips and liberal amounts of cheese. Here is a quick and easy version from your pantry. We also love this Brown Rice & Lentil casserole.
3. Soups
I am convinced that soup is one the biggest restaurant rip-offs. Wanna know a trade secret? "Soup-of-the-Day" is often just re-purposing the previous days' leftovers. You can make an entire pot of soup at home for less than the price of one bowl in a restaurant. If you keep stock and veggies on hand, you have soup. I resisted making my own soups for years until I realized just how easy and frugal it really is. We enjoy it year round!  Use up your leftover mashed potatoes for soup.
4. Roast Chicken
Roasting a whole chicken is a lost art, replaced by the ease of boneless skinless chicken breasts. Get a whole lot more bang for your buck by buying the whole bird. Once I discovered how much juicier and nutritious meat cooked on the bone truly is, I never went back! I love Jamie Oliver's chicken in milk, and make it about once a month. I save some meat for lunch the next day or to throw in some soup. Then I make homemade chicken stock with the bones.
5. Tacos/Burgers
Number five was a toss up. These are my standbys when I am burnt out on cooking and just want something easy. My 10 year old can handle tacos almost completely on her own and my husband grills a mean burger. These simple family favorites are always a hit. Frugal tip: if you are low on ground beef or turkey, sneak in some lentils. No one will ever know!
If are not a meal planner by nature, there are some great resources here on the web to help you get started.
Do you have any kitchen strategies to share? What's your favorite frugal meal?