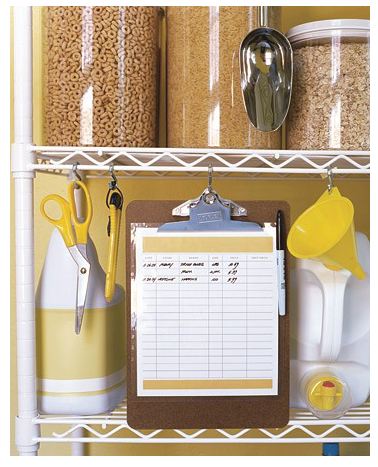 source: marthastewart.com via Amy on Pinterest
The following is from contributing writer Amy
Many people prepare for an emergency by protecting the things they own, so that if something does happen, their items can, for the most part, be replaced. Homes and cars are insured. Important papers are stored in a safety deposit box at the bank or a fireproof safe in your home.
You may even have an emergency fund for your money, but do you have one in your pantry?
Having items on hand for an emergency keeps you from having to run to the store at the last minute and risk paying full price or not being able to get the items at all.
I live in southern Oklahoma, so we deal more with tornadoes than earthquakes, snowstorms, or hurricanes. We did have a crazy ice storm earlier in the year, where it was nearly impossible to get out of our homes for a few days. This is where having an emergency fund in my pantry came in very handy.

Some items I like to have on hand for an emergency when I do not have access to electricity are:
Peanut, Almond, Sunflower or other favorite nut butters
Bread
Jams or jellies
Granola and Granola Bars
Dried fruit like raisins, cranberries, apples, and strawberries.
Nuts like Almonds, Cashews, Walnuts, and Pecans.
Crackers
Local, raw honey
Dry cereal
Fun snacks like Chex Mix or Fruit Roll-ups
By having an emergency fund in your pantry, you can be prepared for whatever weather (or other calamity!) comes your way. Running to the store (or multiple stores) can make everything even more chaotic. When you have quick and easy food items on hand, it makes dealing with an emergency so much easier.
For more ideas and recipes, check out my Pantry Emergency Fund board on Pinterest.
See what the rest of the Eat Well, Spend Less crew has to say about Preparing for an Emergency:
What are your tips for having an emergency fund in your pantry?
About Amy
Amy is a youth pastor's wife and homeschooling mom to three girls, ages 7, 5, and 3, and lives in a small town in Oklahoma. She loves Jesus, coffee, labels, writing, and plopping down with a really good book. You can connect with her on Twitter or follow her on Pinterest.