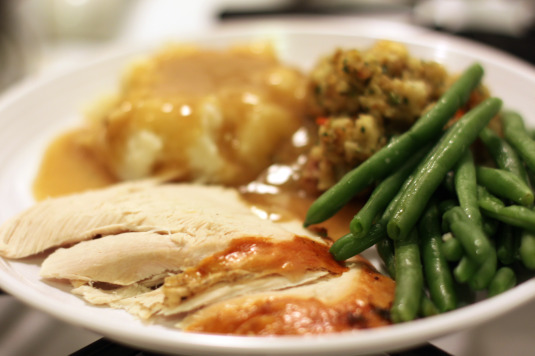 Photo Source: Food for my Family
This month we are talking turkey in our Eat Well, Spend Less series.
: Aimée of Simple Bites brings it with her post on serving one bird four ways.  I can't wait to try her Quick Turkey Noodle Soup!
:: Carrie from Denver Bargains shows you how to set an elegant table for less.  My favorite tip is using edible decorations!
:: Jessica at Life as MOM shares her tips for a budget-friendly Thanksgiving dinner.  I like how she suggests easing some of the inevitable stress by switching turkey with chicken.
:: Katie of Good Life Eats has a great post on reducing Thanksgiving waste.  Katie recommends purchasing a turkey larger than you actually need when the deal is right, with leftovers being stretched into other meals.
:: Katie from Kitchen Stewardship hits on a subject that effects most of us: Do Your Holidays Focus on Family, Food…or Fighting?  I appreciate Katie's perspective, and how she encourages everyone to focus on the joy of the holiday season, rather than conflict!
:: Mandi at Life… Your Way has a yummy-looking slideshow of allergen-free dishes for Thanksgiving dinner.  As a gluten-free family, these recipes are a welcome sight!
:: Shaina of Food for My Family shows us how to make dessert frugal and full of good food.  Dessert is often one of the most expensive pieces of the holiday meal, but it doesn't have to be!
:: Tammy from Tammy's Recipes has great tips for a homemade, make-ahead Thanksgiving dinner.  She lists all of the Thanksgiving favorites, and how far in advance they can be made, making the "big day" much less stressful!
:: My contribution on making the most of turkey leftovers, includes 10 yummy recipes you won't want to miss!
How do you plan to eat well and spend less this Thanksgiving?