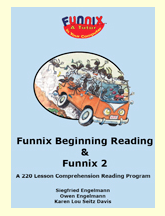 No longer available
Through February 16, you can get a free download of the Funnix Beginning Reading Program.
About the Funnix Reading Program:
Funnix Beginning Reading is 220 complete lessons taking children from beginning non-readers to reading at a beginning third grade level.

When you teach Funnix Beginning Reading, you and your child sit next to each other and watch the computer screen. A narrator presents a series of fast-paced exercises in each 30-minute lesson. The narrator asks questions, and your child responds out loud. Your job is to reinforce correct responses and correct any mistakes by following simple rules for "navigating" the program.
To sign up for your free copy, just fill out this form. After filling out the form, you will receive an email with instructions on how to download the entire 220 lessons onto your computer. You will receive everything you need to teach the program, including daily workbook activities and guides to help utilize the program effectively.
Thanks, Fivej's!