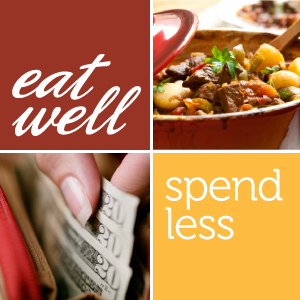 This month, our Eat Well Spend Less crew has celebrated the birth of three sweet girls, making that 35 kiddos between us! So we decided our focus this time around would be babies and food; after all, with 35 babes, we are kind of experts

I really, really enjoyed everyone's posts this month, and looking at the pictures of the new little ones gave me a bit of the baby bug!
Jessica at Life as MOM shares several suggestions on how to celebrate a new baby with food (I LOVE the idea of a birth day cake!).
Aimée of Simple Bites discusses three elements the postpartum diet should address. All of her tips include nourishing, real food options, including a recipe for Honey-Vanilla Syrup to top fruit salad. Forget waiting for postpartum, I'm making this now!
Mandi from Life… Your Way takes a look at the basics of making your own baby food. Mandi's tips are a great encouragement for anyone wanting to make their own baby food. If we ever have another, I will definitely use this as a guide!
What new mom wouldn't love to have a meal (or two, or three) delivered right after she comes home with baby? Carrie at Denver Bargains shares several tips for being on both the giving AND receiving end of "new mom" meals.
Are you figuring out how to feed a baby real food? Katie and Kitchen Stewardship shares how her baby feeding preferences have changed with each babe, and her new favorite "first foods" for baby.
Tammy from Tammy's Recipes knows how to have a no-work kitchen after baby… she just brought home baby number 5! I love her tips on letting others help, even if they don't do it "your" way.
Shaina at Food for My Family shares some tips to eat well and spend less without relying on fast food. Plus, she has a giveaway for a copy of Parents Need to Eat Too, by Debbie Koenig.
And I shared my ideas for kitchen planning while pregnant.