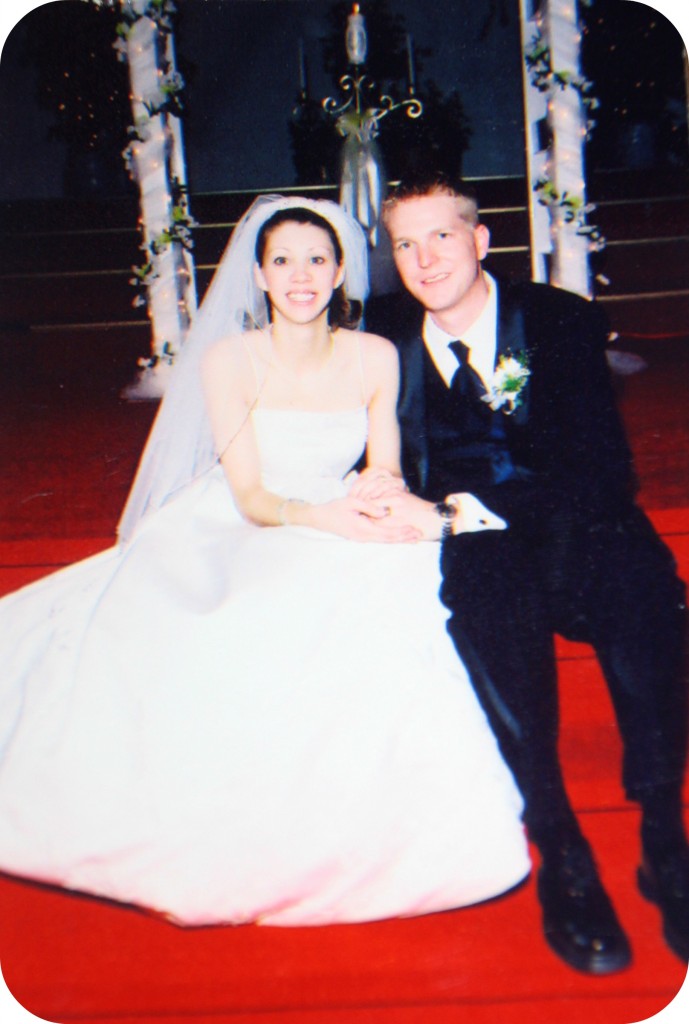 July 20, 2002
Ten years ago today, I said, "I do." And several other words as well. 😉
Some days, it feels like we could not possibly have been married ten years already; others, it seems like we've been married forever.
A summary of the last ten years would look something like this:
4 houses in 1 town, 2 job changes, 3 job additions, 3 girls, 1 boy baking, teaching-degree-turned-homeschooler, 9 years of ministry, 7 vehicles, 1 seminary degree, numerous disagreements, tons of compromises, lots of ups and downs, several attitude adjustments, and many happy times.
Usually, our anniversary falls during church camp or when we are setting up for church camp. When we got married, we were not in the ministry, so we obviously did not know what summers looked like for youth pastors. My new sister-in-law and brother-in-law, however, were quite acquainted with what those kinds of summers looked like, and never once gave us a hard time about the youth summer plans we probably interrupted. After we entered the ministry, I realized just how hard that summer must have been for them with the scheduling of two summer camps plus a mission trip. Shane and I now "pay" for it by celebrating the day of our anniversary with students at camp or doing camp-related stuff… which is what we will be doing tonight.
I could not have pictured what our life would be like now, ten years ago. I certainly didn't envision youth ministry or blogging being involved (um, I don't think there was blogging ten years ago… was there?), but life is full of surprises. And while contentment scares me a little, I believe we are happier now than we were ten years ago. It's funny to look back and see how you have evolved as a couple and as individuals.
I should probably apologize to my sensitive husband for how sarcastic I've become in the last ten years. Luckily, he seems to deal with it okay, and has even become quite sarcastic himself. I should also apologize for getting him hooked on coffee and turning his life upside down with my weird eating habits, strange ideas, homeschooling, blogging, high expectations, and OCD tendencies. He certainly got a handful when he married me; fortunately, he didn't know it at the time!
So, happy ten years, Shane. Here is to another interesting ten years.