Every year, something happens and my garden is a complete flop. Last year, it got scorched by our crazy heat. This year, we were a little late planting and it seems our tomatoes are either going to be late bloomers or not bloom at all. Yep, I'm just a wanna-be gardener.
We did get one thing right this year: peppers.
We are swimming in banana, jalapeño, and Anaheim peppers. I love adding peppers to dishes because it gives it a little extra flavor… and sometimes an extra kick! My husband goes crazy over anything hot or spicy, so he is thrilled with the abundance of peppers coming into our home.
Pair some yummy tomatoes from the neighbors (since we can't seem to grown our own!) with our spicy jalapeños, and you have the makings of a salsa that will make you blow your top.
Be forewarned, this stuff is pretty darn hot! This preggo gets heartburn just looking at it!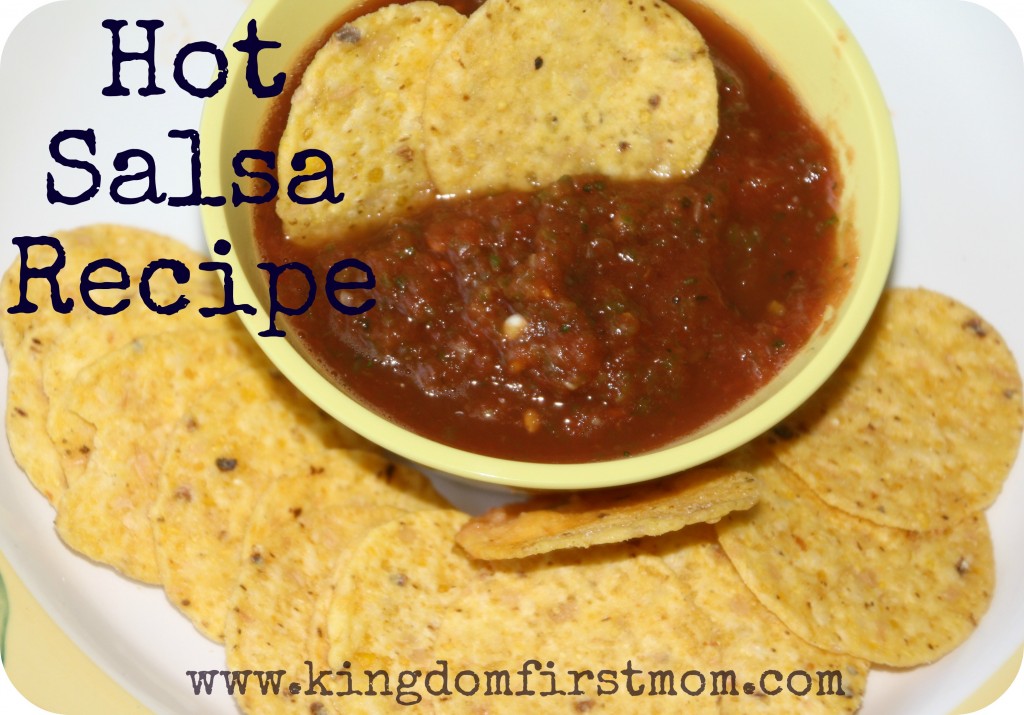 Ingredients
6 medium tomatoes, peeled (or 1, 28-oz can of whole, peeled organic tomatoes, drained)
3-4 medium jalapeño peppers
1/4 tsp. garlic salt
1/4 tsp cilantro
1/4 tsp cumin
Instructions
Boil jalapeño peppers until soft. Drain well. Remove stem before adding to other ingredients.
Add all ingredients to a food processor or blender. We use our Ninja.
Mix ingredients until well-blended.
Serve with your favorite tortilla chips.
This recipe will serve two (or, just one if your husband is Shane Norton!)

This month, the Eat Well, Spend Less ladies are talking about yummy summer produce. Read more great tips, ideas, and recipes here:
Written by: Amy Norton
Amy is a youth pastor's wife and homeschooling mom to three girls, ages 8, 6, and 3, and has a baby boy on the way. When she's not writing at Kingdom First Mom, you can find her cooking, getting crunchier by the day, and trying to stay on top of the laundry. She enjoys writing about her homelife adventures at Amy Loves It.